Bob Marley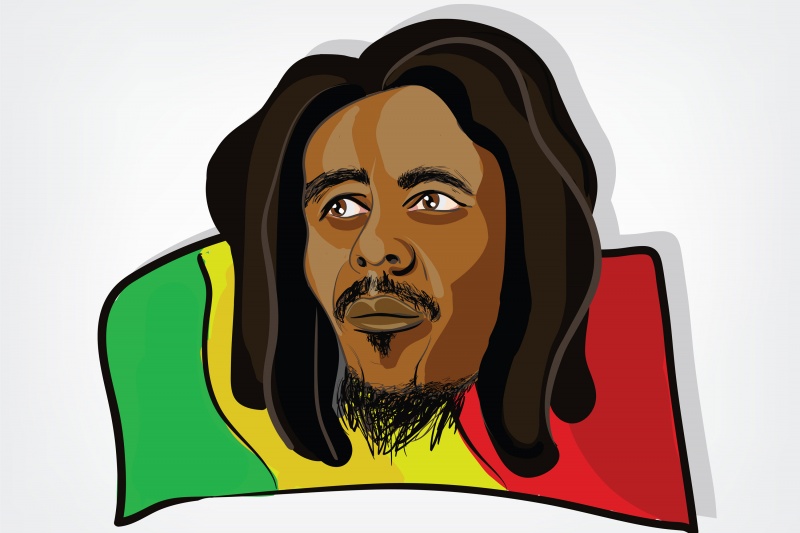 Bob Marley is considered to be the king of reggae music. He was a world famous singer and musician. Throughout his career he sold over 20 million records. Besides the fact that he was known for believing in the Rastafari movement, Marley was also known for being the first international superstar from the Third World. This article will address Marley's career as well as his interests in the Rastafari movement and cannabis.
Early life
The actual name of Bob Marley is Robert Nesta Marley. The artist was born on the farm of his grandmother in Saint Ann Parish, Jamaica. Marley was born to Cedella Booker and Norval Sinclair Marley. The father of Bob Marley was a white Jamaican. He was originally from Sussex, England and moved to Jamaica when he was working on a plantation oversees. His father was originally from Syrian and Jewish origin. Also, his father had also been working as a captain in the Royal Marines. This led to Bob Marley's father often being away from home. Thus, although the supported his wife and child financially, he did not spend a lot of time with them. Bob Marley attended high school at Stepney Primary. Bob Marley's father died when Bob Marley was only 10 years old. His father passed away at the age of 70 as a consequence of a heart attack. After his father passed away, Bob Marley's mother remarried Edward Booker. Edward Booker was a civil servant from the Unites States. Together with Edward Booker, Marley's mother had two other children. Marley moved to Trenchtown, Kingston when he was 12 years old. Together with his friend Neville Livingston, Marley had started to make music in high school. Neville Livingston also moved to Kingston, together with Marley. Here they did not only live together, but they also started making and producing their own music. Since they were exposed to R&B music from the United States, they started to include the latest R&B vibes in their own music. Soon after his move to Trenchtown, Marley joined a vocal group together with Beverley Kelso, Peter Tosh and Junior Braithwaite.
Early years of his career
In 1962, Bob Marley started to produce and release his first songs. He released his first four songs called "Do You Still Love Me?", "Terror", "Judge Not" and "One Cup of Coffee". A year later, Bob Marley was joined by a few other artists and the group called themselves The Teenagers. Soon after the group got together, they changed their name to The Wailers. The group got discovered by a record producer called Coxsone Dodd. Under his label, the group released the single "Simmer Down" and the group sold over 70,000 copies in Jamaica. This song also became Jamaica's number one song in 1964. In 1966, however, a few team members left and only Bunny Wailer, Peter Tosh and Bob Marley were left. In 1966, Bob Marley married Rita Anderson. For this reason they moved to the United States for a short period of time where Bob Marley stopped making music for a while. Instead, he worked as a lab assistant. Bob Marley was raised as a Christian. However, when he was not living close to this mother anymore, he became interested in the beliefs of the Rastafari movement. His interest in the movement developed in the 1960s. After Marley moved back to Jamaica, he officially converted to Rastafari. After he converted formally, Marley also started growing dreadlocks. During this time Marley also had disagreements with Dodd with regards to financial issues. For this reason, Marley and this band paired up with Lee "Scratch" Perry. This alliance did not last for a long period of time since they only worked together for a year. However, it is said that during this year, The Wailer's produced some of their best music. After a year, the group split up from Perry due to a disagreement about recording rights. The group and the producer did decide to remain friends. The end of the 1960s led to a change in Jamaican popular music. The beat of the music slowed down considerably. It is said that this slow, steady rhythm gave rise to the famous reggae sound. Bob Marley approached another produced who was known for being one the main developers of the reggae sound. The new songs which were produced together with the new producer included instruments such as saxophones and the ska trumpets. The Wailers released another album when they were working with the reggae producer called "The Best of The Wailers".



Island Records
In 1972, Bob Marley signed with the label CBS Records. CBS Records was based in London and Bob Marley and his group therefore started a tour in the United Kingdom. On their tour, they performed together with the American soul singer Johnny Cash. After their tour in the UK, The Wailers returned to Jamaica where they recorded their next album called "Catch A Fire". This album was produced since there was a growing interest in reggae music. Many producers were interested in Bob Marley and his group and they were offered money to release another reggae album. The album "Catch A Fire" included a total of eight songs. This album was considered to be a revolutionary album in the world of reggae since it was the first time that a reggae band was treated with the same care as a rock 'n roll a band. The album was the first album which was released in cooperation with Island Records. The album was released globally in 1973. In the first place, there were only 14,000 copies sold. This meant that the album was not a great success. However, the album did receive a lot of positive feedback and increased the popularity of The Wailers around the globe. A year later, the band released another album called "Burnin'". This album also included the song called "I Shot the Sheriff". The song became so popular that it was also introduced to Eric Clapton. Eric Clapton was very impressed with the song that he decided to cover the song. His cover became incredibly popular and even reached number 1 in the Billboard Hot 100 in 1974.
Illness
In 1977, Bob Marley was diagnosed with a type of malignant melanoma. This melanoma was found under the nail of one of this toes. While this is often caused by an injury during a football match, this was not the case for Bob Marley. For Bob Marley it was a symptom a cancer that was already present in his body. Doctors advised Bob Marley to amputate one of this toes, but the artist declined this. He used his religious beliefs as a reason for not wanting to amputate one of this toes. His toe was therefore not amputated but only the nail and the nail bed were removed. Even though, Bob Marley was recommended to take it easy and stop going on tours, he did not listen to the advice given. The artist continued going on tour and he was even planning to make a world tour in 1980. The Wailers had been touring in Europe for a while and they became more and more popular throughout the world. During their Europe tour, they had given one of their biggest performances ever. They gave a concert in Milan in front of 100,000 people. Bob Marley continued his tour in the Unites States. Some of the biggest shows he gave were in New York. The artist performed at the Madison Square Garden where thousands of people attended his concert. Bob Marley's last show was in Pittsburgh, Pennsylvania in 1980. Soon after his tour, Marley's health deteriorated. Since the cancer had spread throughout his body, he had to cancel his tour. Marley went to the Bavarian clinic of Josef Issels to receive a treatment. The treatment he received was based on avoiding certain types of foods and drinks. Marley was at the clinic for a total period of eight months, but the treatment was unsuccessful. He therefore left to Jamaica when he found out that the disease could not be cured. On his way from Germany to Jamaica, his health situation only got worse. The artist therefore landed in Miami where he was taken to hospital immediately. The melanoma had spread to his lungs as well as his brain which eventually caused his death.
Religion
As mentioned, Bob Marley was a supporter of the Rastafari movement. The culture of the Rastafari movement played a big role in the development of reggae. Bob Marley wrote many biographies where he often talked about the movement. Marley wrote that he affiliated with the Twelve Tribes Mansion. Since he was born in February, he was in the denomination which is also known as the Tribe of Joseph. The fact that he affiliated with the movement is also present in his music. He often quotes from the Genesis, which is considered to be the main source of the Rastafari movement. Marley also decided to grow dreadlocks because it was believed that cutting hair was not in line with the biblical Samson. Marley stated that Rastafari believers had to make certain religious vows. One of these vows included that the members had to treat their hair according to a certain ritual. It is said that "no razor shall come upon your head". This had to be the case until one was reunited with the Lord.
Cannabis
Bob Marley was also known for being a great proponent of cannabis. Marley considered the herb to be a healing herb. He was a strong supporter of legalizing the drug since he did not only believe it to be a sacrament but also an aid to medication. He often stated that the use of cannabis was mentioned in the Bible. As a source he would often refer to a specific passage in the Bible, namely Psalms 104:14. He said that in this passage, it became clear that cannabis can be used as a healing herb. Before Marley converted to Rastafari he did not use cannabis. He only started using cannabis in 1966 when he formally converted to the Rastafari movement. In 1968, the artist was arrested since he was caught with cannabis. At this time, cannabis was not considered to be legal so anyone who had cannabis was performing a crime. Despite the fact that the artist was arrested with cannabis, he continued using the herb. He used his religious beliefs as a justification for the use of cannabis. Marley said that by smoking the herb, you will not only be able to grow as an individual but you will also be able to develop your conscience. Moreover, he also considered to be a means of becoming wiser and he believed that it could help in philosophizing.