Snoop Dogg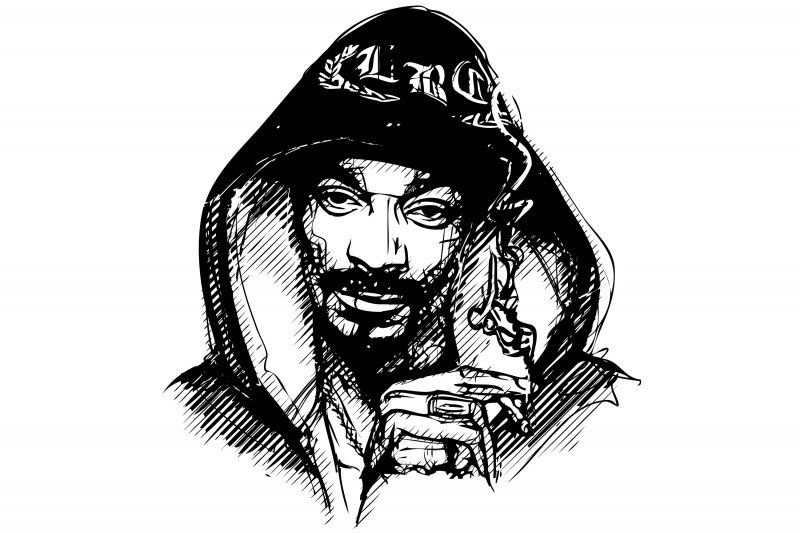 Snoop Dogg, also known as Snoop Doggy Dogg or Snoop Lion, is a famous American rapper. Snoop Dogg started his career when he began cooperating with Dr. Dre. Snoop Dogg has not only released multiple albums which have been well received, he has also played and directed movies. This article will address Snoop Dogg's personal life, his various activities besides rapping as well as the different phases of his career.
Early life
While most people know the rapper as Snoop Dogg, the rapper was born as Cordozar Calvin Broadus. He was born in Long Beach, California. Snoop Dogg is one of three children, and he two brothers. The rapper was named after his stepfather who was called Cordozar Calvin Broadus. The name of Snoop Dogg's mother is Beverly Broadus. The father of the rapper was Vernell Varnado. His father was in the army during the Vietnam War. He was also known for being a singer as well as a mail carrier. It is said that Snoop Dogg's father did not play a big role in the rapper's life since he was often away. His parents often referred to the rapper as "Snoopy" when he was young and decided that it would become his nickname. However, most of the time they referred to him as Calvin. Snoop Dogg's mother and stepfather divorced in 1975, when the rapper was only four years old. Snoop Dogg's interest in music developed at a young age. When he was young he started singing. He also began playing the piano at the Golgotha Trinity Church. Even though he started singing at a young age, he only started rapping when he was in sixth grade. When he became a bit older, the rapper often got in trouble with the police. This was due to the fact that he was part of the Rollin' 20 Crips gang who were present in Long Beach. However, the artist said that he was never part of any gang. Not long after the artist graduated from high school, he was arrested since he possessed cocaine. After he had been arrested for this possession, he was in and out of prison for a long period of time. Together with his cousin Nate Dogg, Snoop started recording his music. They started to make their own tapes which they called 213. The name of their tapes were named after the area code of Long Beach at the time. One of his early memos was called "Hold On". This song was made into a mixtape and eventually reached Dr. Dre, who is an influential produced in the music world. After hearing the mixtape, Dr. Dre was impressed by Snoop and he therefore decided to invite him to audition.
Early career
When Snoop Dogg started recording his music with Dr. Dre he adopted the stage name Snoopy Doggy Dogg. The first song the two artists started working on was the theme song for the movie called Deep Cover. Shortly after this, Snoop Dogg started working on his debut and he released Doggystyle. Two of his singles, namely "Gin and Juice" and "Who Am I", even became so popular they became two of the most played songs in the United States. Besides the songs, the album was also a great success. The album dominated the Billboard charts for multiple months. Although his music was appreciated by many, it was also criticized by others. The violent and misogynistic language he adopted was often censored and was often criticized. However, there have also been critics who say that Snoop Dogg's music is not as violent as other gangsta raps. They say that the artist also showed a soft side. This statement is often supported by the fact that Snoop Dogg's song called "Gangsta Life" talks about how his mother raised him and his two brothers on her own. Moreover, other critics also said that Snoop Dogg's voice is more soft compared to other gangsta rappers. He does not scream as much and he often speaks softly in his songs. Some of the artists which featured on his album Doggystyle include Nate Dogg, Kurupt and Daz Dillinger. In 1995, Snoop Dogg started his own record label called Doggy Style Records. Snoop Dogg was accused of murder this same year. However, he was acquitted the year after. Shortly after he was acquitted, Snoop Dogg continued to focus on his own record label and he signed his first artist. Charlie Wilson was the first artist who was officially signed under the artist's label. Charlie Wilson collaborated with Tupac Shakur and released the song "2 of Amerikaz Most Wanted". However, this was one of the last songs Tupac recorded since he was shot a couple of days after the song was released.
No Limit
After Dr. Dre left the label Death Row, Snoop Dogg decided to sign with the record label called No Limit Records. He signed with the label in 1998 and he released the album "Da Game Is to Be Sold, Not to Be Told" the same year. The other album he released was called "No Limit Top Dogg" which he released in 1999. More than 1,5 million copies were sold of this album making it a great success. The year later, Snoop Dogg released "Tha Last Meal". Of this album, more than 2 million copies were sold. In 2002, Snoop Dogg started to change his image. He did not only do this by releasing the singles "From tha Chuuuch to da Palace" and "Beautiful", but also by adopting more of a "pimp" image instead of a gangster image. One of the biggest hits during this time was "Drop It Like It's Hot", which Snoop Dogg recorded together with Pharrell. The song reached number one in various charts and can still be heard on the radio nowadays. Snoop Dogg also started to cooperate with other artists. Some of these artists include Justin Timberlake, David Banner, Lil Jon and Xzibit. The song he recorded with Justin Timberlake is called "Signs". This song was the highest entry ever in the music charts in the United Kingdom.



Reincarnated and Snoop Lion
Snoop Dogg released the album "Reincarnated" in 2012. Along with his album, he also produced a documentary called "Reincarnated". The movie was released in 2013. During this time, Snoop Dogg started to adopt a reggae style in his music. For example, in 2012 he released the single "La La La" which has a reggae beat to it. Also, the song was released under the rapper's pseudonym Snoop Lion. The rapper said that he converted to the Rastafarian movement. He also mentioned that he went to Jamaica to be rechristened by a Rastafarian priest. Around the same time, artist Frank Ocean came out as being gay. As a response to the artist coming out, Snoop was very supportive and said that the hip hop world is ready for a homosexual rapper. The fact that the artist responded positively was shocking to many people since the hip hop world is a male dominant world where the role of masculinity plays a big role. In September 2012, Snoop Dogg started producing music which could be described to be electronic music. The music was produced under the name DJ Snoopadelic. In an interview that Snoop gave, he mentioned that his aim is to make music which is accessible to a wide audience.
Movies
Throughout his career, Snoop Dogg appeared in various movies and television shows. One of the movies he starred in was "The Wash". In this he played together with Dr. Dre. Snoop also played in the movie "Bones" and the movie "Mac and Devin Go to High School". In the latter, he played together with rapper Wiz Khalifa. Besides being the protagonist in various movies, he also had many supporting roles. For example, he has supporting roles in "Half Baked", "Training Day" and "Bruno". The rapper also played in television programs. One of the most famous shows he played in was the Comedy Central Roast of Donald Trump. In this program, a famous television persona is roasted by others. Snoop Dogg also had his own shows. One of the shows was called "Snoop Dogg's Father Hood". The children and the wife of Snoop Dogg are also featured in this show. The two other television programs which addressed Snoop Dogg's life are "Dogg After Dark" and "Doggy Fizzle Televizzle". In 2005, the artist started his own production company called Snoopadelic Films. The first movie which was produced under the production company was called "Boss'n Up". This movie starred artists such as Trina and Lil Jon.
Personal life
In 1997, Snoop got married to the girl he had been dating since high school. The girl called Sante Taylor was together with Snoop Dogg for seven years. In 2004, the couple filed for divorce. The reason that the artist gave for the divorce was the fact that they had irreconcilable differences. The couple had been separated for four years when they decided to get back together in 2008. In this year, the couple renewed their wedding vows. The couple had three children, namely two sons and one daughter. Moreover, Snoop Dogg is a heavy cannabis smoker. The fact that he is a cannabis smoker has become part of this image. In 2002, the rapper said that he would quit cannabis. However, he did not manage to give up the herb since he said that he enjoyed it too much. The rapper has been certified to medical cannabis. This implies that he is able to get cannabis at the pharmacy. He said that he uses cannabis for treating his migraines. Additionally, in 2009 it was said that the artist was a member of the Nation of Islam. This was reported after the artist had appeared at the annual Saviours' Day. Snoop Dogg confirmed that he was indeed part of the Nation of Islam but never mentioned the date when the actually joined the organization. In 2012, the artist said to be reborn. This was after he had converted to the Rastafari movement. As mentioned, his music style also changed and he started working with reggae music. Moreover, the fact that the changed his name to Snoop Lion after he had returned from a trip to Jamaica demonstrates that he was a committed follower of the movement. However, in 2013 the rapper was criticized by the Rastafarian movement in Jamaica. It was said that the artist did not fulfill the requirements of a Rastafari member. He was especially criticized by the artist Bunny Wailer. Snoop Dogg dismissed the allegations. He also stated that the considers his religion to be something personal and that he does not believe that other people should judge the way he interprets and enacts his religion.