The Notorious B.I.G.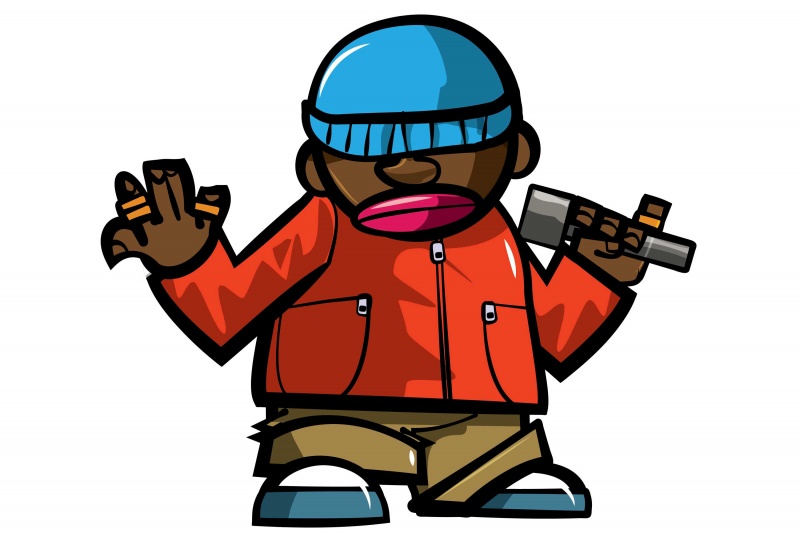 Christopher Wallace, better known as The Notorious B.I.G. or Biggie Smalls was an American rapper from Brooklyn, New York. He was one of the most successful rappers of all time. Wallace brought out several albums and won several awards. Wallace became part of a rivalry between East Coast and West Coast, and was murdered on March 9 in 1997 at the age of 24.
Biography
Christopher George Latore Wallace, better known as Biggie Smalls or The Notorious B.I.G., was born on May 21, 1972. He was born in New York's borough Brooklyn in the United States of America. He is the son of Voletta Wallace and Selwyn George Latore. His mother was a school teacher whose origin was Jamaican. His father was Jamaican as well, and worked as a politician. When Wallace was two years old, his mother had to work two jobs since his father left the family. Wallace grew up in Brooklyn, New York. Wallace attended the Queen of All Saints Middle School, where he won different awards and was an excellent student. When Wallace was 10 years old, Wallace was called ''Big'' because he was overweight from a very young age. Wallace stated that he was involved in dealing drugs since he was twelve years old. After middle school, he went to the Bishop Loughlin Memorial High School. Later on, Wallace requested a transfer from Bishop Loughlin Memorial High School to the George Westinghouse Career and Technical Education High School, together with rappers Jay-Z and Busta Rhymes. Wallace dropped out of high school when he was seventeen years old. Wallace's interest in music and rapping began in his teenage years. After dropping out of high school, he got more and more involved with dealing drugs and other crime. Wallace got arrested and got a probation of five years for weapon charges. Later, he was also arrested for dealing in drugs, cocaine. Wallace went to jail for nine months. After spending nine months in jail, he spend a lot of time on music. He released a demo tape under his artist name Biggie Smalls. Wallace's artist name was referenced to a movie character in the movie Let's Do It Again. Next to his demo tape, Wallace also made music with music groups like the Old Gold Brothers and the Techniques. Via connections, Wallace's demo tape was featured in a column in a magazine called The Source. The column was made for beginning and aspiring rappers. Since his demo tape was featured in The Source, Sean Combs who then was an Uptown Records A&R producer, heard it and contacted Wallace immediately. Later on, he was signed to Uptown Records. Shortly after, Combs started his own label, so Wallace followed him and was signed to Combs's new label Bad Boy Records in 1992. Wallace received his first child together with his girlfriend in 1993. His first daughter was called T'yanna. After T'yanna was born, Wallace sold drugs so he could provide for T'yanna and his girlfriend.
Early career
When Combs found out that Wallace was still selling drugs, Combs made him stop. Wallace became more known after he released a remix on ''Real Love'', an original song by Mary J. Blige. He released the remix under his new artist name The Notorious B.I.G., since Biggie Smalls was used by another artist. Wallace's remix to ''Real Love'' became popular and reached a high place in the Billboard Hot 100 chart. He released another remix later of ''What's the 411?'', another original song by Mary J. Blige. Wallace released his first track in 1993. His first track was ''Party and Bullshit'', which was also the soundtrack to ''Who's the Man?''. Wallace was also featured in a remix to ''Flava in Ya Ear'', which originally was from Craig Mack. Craig Mack was also signed to Combs' Bad Boy Records. The remix, which also featured rapper Busta Rhymes and LL Cool J, climbed up to number nine in the Billboard Hot 100 charts. After meeting each other at a photoshoot, Wallace and singer Faith Evans got married in 1994. The first success as a solo artists, was when Wallace released the song Juicy/Unbelievable. The song became the lead single to his very first album, Ready to Die.
Career
Wallace's first album came out in September, 1994. The album was called Ready to Die and became a huge success. It climbed up to number thirteen in the Billboard 200 charts, and went Platinum four times. The magazine Rolling Stone stated that because of Ready to Die, the focus of rap music went from West Coast hip hop back to East Coast hip hop. Ready to Die received very positive reviews from critics as well. The single Juicy/Unbelievable was the lead single to his album. However, two more singles were produced and added to the album. The second single on the album was Big Poppa, and the third single was One More Chance. One More Chance was a song that featured his wife Faith Evans. All the singles on Ready to Die became a huge success. When Ready to Die was released, Wallace was close friends with West Coast rapper Tupac Shakur. A relative of Wallace stated that the two travelled together a lot and spent lots of time together. During this time, Wallace also became friends with Shaquille O'Neal. From 1995. Wallace started to work more with R&B artists. He worked with R&B groups like 112 and Total. The songs that Wallace made with the groups became successful and reached a place in the Hot 100. Wallace was the most sold male artist/rapper in the United States in 1995. The friendship between Tupac Shakur and Wallace changed when Shakur accused East Coast rappers like Wallace, Sean Combs and Andre Hall of a robbery that happened to Shakur in 1994. When Shakur was officially signed to West Coast label Death Row Records in 1995, a rivalry existed between East Coasts' Bad Boy Records and West Coasts' Death Row Records. In the same year, Wallace started to work on his second album. He was arrested several times during 1996. The first time that he got arrested that year was in Manhattan, when he was arrested for threatening to kill two people outside of a nightclub. He received a sentence of 100 hours of community service. The second time that Wallace was arrested that year was for weapon and drug possession. When Shakur was killed on September 7 in 1996, many people speculated that Wallace had something to do with the murder. However, there never was evidence that Wallace was involved. His co-manager at the time stated that Wallace was in the studio recording a song at the time of Shakur's murder. In 1996, Wallace received his second child. His son, called Christopher ''C.J.'' Wallace, was born to Wallace and Faith Evans. While Wallace worked on his second album, called Life After Death, he got into a car accident. Caused by the accident, Wallace had to sit in a wheelchair for a while. When Wallace his car got repossessed when he got arrested for smoking weed, he chose a substitute car. The substitute car had some problems, which resulted into the car accident. After being in the hospital for months for therapy, Wallace returned to working on his album.



Death
In 1997, Wallace was in Los Angeles to promote his second album, Life After Death. Wallace went to a party in Los Angeles that was hosted by Vibe Magazine on March 8. Wallace left the party in a SUV around 12.30 a.m. PST, on March 9. Around 12.45 a.m. PST, Wallace's SUV stopped at a red light. Besides the SUV, a Chevrolet Impala SS stopped. The driver of the Chevrolet lowered his window, and started to fire gunshots towards Wallace. He was hit with four bullets. He was hit one time in his forearm, one time in his back, one in his outer left thigh and one in his left inner thigh. The fourth bullet was the fatal bullet. When Wallace arrived at the Cedars-Sinai Medical Center, the doctors defined Wallace as dead around 1.15 a.m. PST. Until this day, the murder of Wallace is still a mystery. However, many people have speculated about the identity of the murderer. People linked Shakur's murder to Wallace's murder soon after the shooting on March 9. The Los Angeles Times stated that a suspect was part of the gang the Crips, and murdered Wallace out of personal motive. On March 1997, the funeral of Wallace was hosted. The funeral found place in Manhattan, at the Frank E. Campbell Funeral Chapel. Later on, Wallace's body was cremated.
Legacy
Wallace was with no doubt one of the most successful rappers of all time. AllMusic stated that Wallace was the savior of East Coast hip-hop. In 2002, Wallace was called the greatest rapper of all time by The Source Magazine. The Source Magazine also listed him as number three on their Top 50 Lyrical Leaders of all-time list in 2012. MTV gave Wallace a spot in their The Greatest MCs of All Time list that came out in 2006. Magazine Rolling Stone also called Wallace the greatest rapper that ever lived, in 2012 and in 2015, Wallace was called the greatest rapper of all time by Billboard. Wallace was honoured by VH1 during their annual ''Hip Hop Honors'' in 2005. After Wallace's death, a clothing line ''Brooklyn Mint'' came out. Wallace started to promote the clothing line, but when he died things were falling apart. His managers and Jay Z did launch the clothing line after Wallace's death and sold T-shirts with Wallace's face on it. An annual dinner is hosted by The Christopher Wallace Memorial Foundation, which is called B.I.G. Night Out. The dinner is hosted to raise money for children's school equipment. In 2009, a biopic called Notorious came out. The biopic film tells Wallace's life story as an upcoming rapper and his successful life. The movie was produced by Sean Combs, Wallace's managers and Voletta Wallace. The biopic turned out to be a success, with a box office of 44 million dollars worldwide.
Awards and nominations
During his successful music career as a rapper, Wallace won several awards. In 1995, Wallace won two Billboard Music Awards. He won a Billboard for Rap Artist of the Year and for Rap Single of the Year. Wallace has been nominated for a Grammy four times. He was nominated for Best Rap Solo Performance in 1996, Best Rap Solo Performance in 1998, Best Rap Performance by a Duo or Group in 1998 and Best Rap Album in 1998. He has also won a MTV Video Music Award for Best Rap Video in 1997 and was nominated for a MTV Video Music Award in 1998. Wallace won a Soul Train Music Award for Best R&B/Soul Album, Male in 1998. He was nominated for a Soul Train Music Award for Best R&B/Soul Album and Best R&B/Soul or Rap Music Video in 1998 as well. In 1995, Wallace won four The Source Awards. He won awards like New Artist of the Year, Album of the Year and Lyricist of the Year.