Beyoncé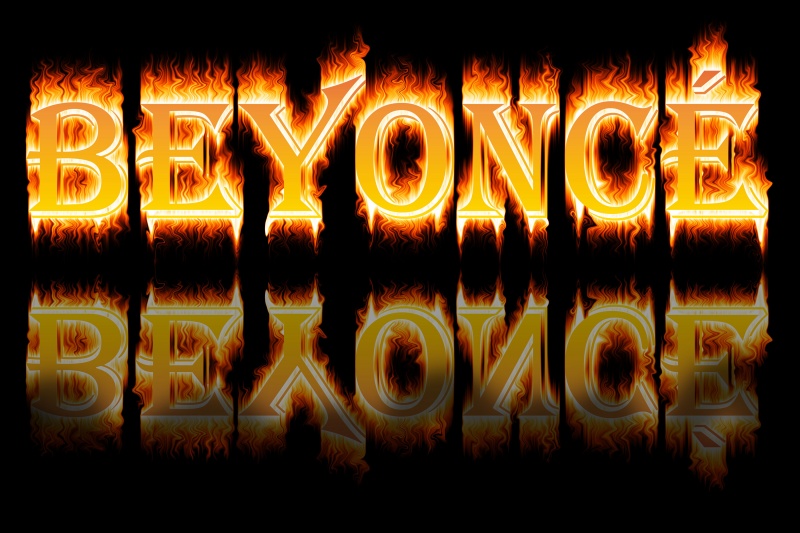 Beyoncé Giselle Knowles-Carter is an African American singer and actress. With numerous number one hits over the years, Beyoncé does not go unnoticed. Beyoncé became popular since she was part of the singing group called ''Destiny's Child''. After the group decided to split up, Beyoncé fame as a solo singer rose to being one of the most famous people in the world. Besides singing and acting, Beyoncé is also a passionate feminist.
Biography
Beyoncé Giselle Knowles is born on September 4, 1981 in Houston, Texas in the United States of America. Beyoncé is the daughter of Celestine Knowles and Mathew Knowles. Her mother was a salon owner and her father was a sales manager. Her father's origin is African American and her mother's origin is African, French and Native American. Beyoncé is the oldest of the two siblings. She has one younger sister, named Solange Knowles. Solange is a successful singer as well. Beyoncé went to the St. Mary's Montessori School. This is the place where Beyoncé first started dancing and singing. During a dance class, her dance instructor noticed the remarkable voice of Beyoncé when she started to sing. Beyoncé's interest in singing develop further after she entered a talent show at her school, which she won. Beyoncé went to the High School for the Performing and Visual Arts. Later, she transferred to the Alief Elsik High School. During her high school years, Beyoncé was part of a school choir at the St. John's United Methodist Church. At a young age, Beyoncé, Kelly Rowland and LaTavia Roberson were put into a girl group called Girl's Tyme. Girl's Tyme did not go by unnoticed since a producer called Arne Frager placed them in the show Star Search. Although Girl's Tyme did not win the competition, the popularity of the group did grow because of the show. While the group got more and more attention, Beyoncé's father decided to be the manager of the group in 1995. Since Beyoncé's father stopped his job as a sales manager to manage the girl group, the family was dependent on the salary of Beyoncé's mother. This led to frustrations in the family. Meanwhile, the girl group performed and auditioned for record labels to score a contract. After many tries, Dwayne Wiggins's Grass Roots Entertainment offered the group a contract. In 1996, the group started working on their debut album.
Early career and Destiny's Child
The girl group decided to change the group's name in 1996. The group changed its name from Girl's Tyme to Destiny's Child. While working on their very first album, the group released its first song in 1997, called Killing Time. Killing Time is the soundtrack of the movie Men in Black, which was released in 1997. In 1998, Destiny's Child released their first debut album. The album became a success. The success was partly because the hit song No, No, No was on the album. The album won three Soul Train Lady of Soul Awards, which was an amazing accomplishment for a new girl group. A year later, Destiny's Child released their second album called The Writing's on the Wall. Their second album was even more successful than their first album. The Writing's on the Wall became multi-platinum, sold more than eight million copies around the world and featured successful hits such as Say My Name and Bills, Bills, Bills. Even today, Say My Name is still a R&B classic. In 1999, Beyoncé also recorded another soundtrack for the movie The Best Man. Since people did not like the way Beyoncé's father was managing the group, Farrah Franklin and Michelle Williams took over that job. Critics and the media blamed Beyoncé for her father's departure. On top of that, her boyfriend left her at that time as well. Beyoncé was depressed for a couple of years. Years later, Beyoncé spoke about her depression and said she did not mention openly that she was depressed because Destiny's Child was doing so well at the time. Franklin left the girl group as well during that time period. After the departure of Franklin, the other girls started working on their third album, called Survivor. While working on the album, Beyoncé got a role in the movie Carmen: A Hip Hopera. The third album came out in 2001 and was extremely successful, landing at number one in the Billboard 200. The album sold 663,000 copies in the first week. Although their last album was really successful, Destiny's Child decided in 2001 to split up and go their own way.
Solo Career
After Destiny's Child split up in 2001, Beyoncé started her solo career with pursuing her acting career. In 2002, Beyoncé played in the movie Goldmember, which became a huge success. A year later, she starred in the comedy The Fighting Temptations. Beyoncé played a single mother called Lilly. She released a soundtrack for both Goldmember and The Fighting Temptations. She released her first solo album in 2003. The album was called Dangerously in Love and sold 317,000 copies in the first week after its release. The album featured successful hits such as Crazy in Love, Naughty Girl and Me, Myself and I. The album earned five Grammy Awards. At this moment it became clear that Beyoncé was going to be an extremely successful solo artist. In 2003, Beyoncé appeared in the movie Dreamgirls. For Dreamgirls, she made a soundtrack called Listen. 2003 was also the year when her first tour started. Beyoncé toured all over Europe and North America. In 2004, Destiny's Child reunited to make their final album called Destiny Fulfilled. After touring together for the last time, Beyoncé started to work on her second solo album. Her second solo album came out in 2006. The album was called B'Day and sold over 500,000 copies in the first week after its release. In 2006, Beyoncé starred in the comedy movie The Pink Panther. In 2007, Beyoncé went on her first worldwide tour, The Beyoncé Experience. A year later, Beyoncé married rapper Jay Z. Also in 2008, she released her third album called I Am… Sasha Fierce. The album sold almost 500,000 copies in the first week. I Am… Sasha Fierce featured hits such as Single Ladies, Halo and If I Were A Boy. The album and the music video of Single Ladies won several awards such as the MTV EMA'S and MTV VMA'S. In 2009, Beyoncé went on her second worldwide tour called the I AM… World Tour. Beyoncé was nominated ten times at the 52nd Annual Grammy Awards, she won 6 of the ten nominations that night. in 2010, Beyoncé took a break from her career for a couple of months to travel and be inspired again. In 2011, her fourth album called 4 was released. The album features hits such as Run the World and Love on Top. In 2013, her first documentary came out. The documentary is called Life is But a Dream. In the documentary, Beyoncé shares her personal life more than she usually does. Beyoncé went on her third world tour in 2013, which is called the Mrs. Carter Show World Tour. In 2013, her fifth album came out. The album was dropped unexpectedly, since Beyoncé did not promote the album beforehand. Her latest album Lemonade came out in 2016. Lemonade was a visual album. The visual album received mixed reviews by critics.



Other ventures
Beyoncé worked with several companies and brands over the years. She signed a deal with Pepsi in 2012. She did many commercials for the brand. The responses on the campaigns were extremely positive. Beyoncé also released her first perfume in 2010, called Heat. Since the reviews were positive, she released her second fragrance a year later, called Heat Rush. In the same year, her third fragrance came out which was called Pulse. Her fragrance line is the best-selling celebrity fragrance line in the world. In 2014, Beyoncé worked together with Topshop. Together, they created a line full of active wear clothes. The line is called Parkwood Topshop Athletic Ltd. This line was not the first line Beyoncé created. In 2005, she released House of Deréon together with her mother. House of Deréon is a clothing line for women. The line is inspired by clothing that Beyoncé and her mother wear on a daily basis. The line consists of sportswear, footwear and lingerie. In 2005, Beyoncé and Rowland started a foundation after Hurricane Katrina hit their hometown Houston. They started the Survivor Foundation. The goal of the foundation was to ensure housing for the victims of Hurricane Katrina. Beyoncé donated $250,000 to the Survivor Foundation.
Personal life
In 2002, Beyoncé started dating rapper Shawn ''Jay Z'' Carter. They met each other when Beyoncé was featured on his album The Blueprint 2. In 2008, the two got married in private. Beyoncé and Jay Z are known as the power couple, since they both are extremely successful. The couple sold more than 300 million albums in the world. After going through two miscarriages, Beyoncé became pregnant in 2011. In 2012, Beyoncé gave birth in New York City to her first child, her daughter Blue Ivy Carter. Beyoncé has always supported President Barack Obama. In 2008 and 2012, Beyoncé voted for him in the Presidential Election in the United States of America. Her sixth album Lemonade was a visual album. In the visuals, the mothers whose sons became a victim of police brutality were included. Since Lemonade showed a lot of controversy, critics were mixed. In an interview, she clearly states that she is against police brutality and injustice. That was the reason that she showed the mothers holding a picture of their sons in the Lemonade visuals. In the last five years, Beyoncé showed the world that she is a feminist and that she encourages girls to stand up for themselves. Songs such as ''Run the World (Girls)'' and ''Flawless'', Beyoncé clearly states that message. She also worked together with Ban Bossy to create a campaign that encourages girl power.
Awards and nominations
Beyoncé has been nominated and won many awards during her career. She has been nominated for 442 awards and won 217 awards. Beyoncé has been nominated for 52 Grammy Awards, making her the most nominated female for a Grammy. She has won twenty Grammy Awards in total. Beyoncé won a Grammy for hits such as Crazy in Love, Single Ladies and Halo. She also won Grammys for her albums Dangerously in Love, I Am… Sasha Fierce and B'Day. She is also the first female to win six Grammy Awards in one night. besides Grammys, Beyoncé won numerous other awards such as 24 MTV Video Music Awards. She is the most-awarded artist in Video Music Award history. She won a VMA for songs such as Formation, Single Ladies and Beautiful Liar. Beyoncé has also received awards for her excellent acting skills. She won a Golden Globe for Best Actress for her part in Dreamgirls. She also won an NAACO Image Awards and a Broadcast Film Critics Association Award. The RIAA honoured Beyoncé as the top certified artist of the decade. The Observer also honoured her as Artist of the Decade. Billboard honoured her as Top Female Artist and Top Radio Songs Artist of the Decade. Beyoncé was honoured at the American Music Awards. She received the International Artist Award. In 2014, the VMA'S honoured Beyoncé as the Michael Jackson Video Vanguard Award.