Travel to Indonesia - the best islands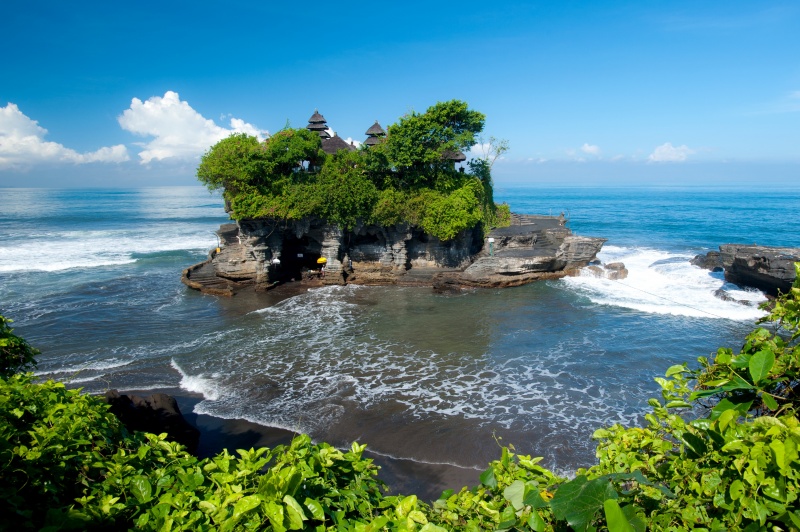 Indonesia has become a popular holiday destination. The island state of Indonesia is situated in Southeast Asia. With 17.508 islands it is the biggest archipelago in the world. A number of tips about a couple of islands that you can visit might thus come in handy. On this page we name the most popular destinations with several tips.
Indonesia is very popular among holiday goers, but it is also popular for backpackers. You can easily and cheaply fly from island to island. The domestic flights in particular are very cheap. In general you fly for a couple dozen dollars from one island to another. Where you might book all the accommodation in advance for a trip to Europe for example, Indonesia is perfectly fit to travel through for a few weeks and discover accommodation while you are there. In this fashion you can visit temples on Java, experience the buzzing nightlife on Bali, admire the nature in Lombok and get to know the local culture on one of the many other islands. On this page we have gathered the highlights for a tour of Indonesia. Of course there are plenty of other possibilities for when you travel to Indonesia.
The highlights for a tour of Indonesia
A tour through Indonesia can be started from Jakarta. This is the capital city of Indonesia and lies on the island of Java. In general the cheapest flights into the country are into Jakarta. It is easy to fly into Jakarta from Europe and other Southeast Asian countries. Once you fly into Jakarta it gives you the opportunity straight away to discover the island of Java. We will first discuss the first island, Java.
Culture and temples on Java
Jakarta is a busy city with a whopping population of almost 10 million people. In Jakarta there is not an awful lot to do and it is often recommended to not stick around the capital too long and start exploring Java.
Not far from Jakarta you will find the town of Bogor. Here you will find botanical gardens that have been created by the Dutch. These are beautiful gardens. When you have the chance to visit these it is definitely recommended to go here. From Jakarta it is very cheap to buy a bus ticket to Bogor at one of the many bus stations. From Bogor you can also catch a bus to Pangadaran. This is a village on the coast of Java. For everyone that wants to learn how to surf this is the ideal location to take up classes. It is cheaper than if you want to learn how to surf in touristy Bali for example. In Pangadaran you will already find more tourists. Furthermore you will find good restaurants, good food and fun bars here in Pangadaran.
With the train you can travel from Pangadaran to Yogyakarta. In Yogyakarta you will find the real Indonesian culture. In the middle of the city you find the kraton. This is the palace where the sultan still lives at this very moment. This is opened in the mornings and you will find schools, markets and museums here. From the city different bus tours are organised to one of the famous temple complexes. Yogyakarta is a popular city because of a number of temples. 40 kilometres away from the city you will find the Borobudur. This is the biggest buddhistic sacred site in the world. This complex has only been discovered a few centuries ago. Besides the Borobudur you can visit the Prambanan from Yogyakarta. When you have the chance it is definitely worth visiting. The Prambanan is the biggest Hindu temple complex of Indonesia with a stunning 244 temples.
In Yogyakarta you can take the train to travel further east on Java. With the train you can go in the direction of Bromo where you can see the volcano complex. To climb a volcano it is recommended to wakeup before sunrise and start the climb early. With the sunrise you can enjoy a stunning view from the top of the volcano. Here you are already close to Bali. From here you can take a boat to Bali.
Lively Bali
When you arrive on Bali from Java you are close to Lovina. This is a quiet beach town on Bali. It is a very good place to enjoy the quietness before you visit the busier touristy area in Kuta. In Lovina you can spot dolphins early in the morning!
From Lovina you can go to Ubud. Ubud is the cultural town on Bali. You will find several ceremonies and beautiful temples here. The most special aspect of Ubud is the rice paddies in the surrounding area. Close to Ubud you will find beautiful rice terraces that you should definitely visit when you are in Ubud. From Ubud you can travel down south to Kuta. During your drive you discover the chaos in traffic and it is becoming busier every year. In Kuta you will find plenty of restaurants, shops and nightlife. Just like in the rest of Bali, you will find a lot of Australian tourists here. For everyone who wants to go party there is enough to do here. Bali is seen as the nightlife paradise of Southeast Asia.
In Kuta and basically everywhere on Bali you will find different travel agents that can sell you tickets for a boat ride to the Gili islands or to Lombok.



Gili Islands and Lombok
Lombok is the island next to Bali and is about the same size as Bali. The Gili Islands are three small islands close to Lombok. The Gili's are great to visit. The most famous and where most people go is Gili Trawagan. On all of the Gili's you can rent a bicycle and go round the island. Before you know it you have made a full circle around the island. Instead of taxis you will find horse and wagon that will take you around the island. Besides Gili Trawagan you will find Gili Air and Gili Meno.
From the Gili Islands you can take a short boat ride to Lombok. Lombok is many times less touristy than Bali. However the island's beauty is nothing short of that of Bali. Once you set foot on the island you will see a lot of green and you can enjoy the beautiful nature. The big advantage of Lombok is that you can enjoy nature and beaches in peace and quiet. The prices are in general lower than those on for example Bali, the main reason being that it is less touristy here. Big plus for the backpackers!
Flores, Sulawesi and Raja Ampat
Just like Lombok, there are many more beautiful islands to visit where the tourism is only just starting. Flores and Sulawesi both belong to that category. You will find Flores east of Lombok and Bali. This is a bigger island than Bali and Lombok, but the tourism only just started in the last few years. At this moment in time you can fully enjoy the nature and surroundings. The town of Lubuan Bajo is the most well known on Flores. Especially for backpackers this is a fun location to go to. Snorkelling and diving are good here. With the beautiful surroundings, the clear waters and the stunning islands around this is a great destination. In the town of Ruteng on Flores you can enjoy nature. You will find rice paddies and volcanoes here that you can visit.
Another island where tourism has only just started is the island Sulawesi. During your tour of Indonesia this is a fun island to visit for those that want a break from all the tourism. This island does not yet know any resorts and hotels, like we know those on Bali, but you can travel around just fine. The infrastructure is good and most services that a tourists need you will be able to find here. For the real lovers of diving or snorkelling this is the place to be. There are beautiful beaches to snorkel or dive. Further down south on the island you can find an old Dutch fort. This used to be a warehouse for the Dutch during colonial times.
One of the best dive and snorkel destinations of the world is Raja Ampat. This area consists of about 1600 small islands. The majority of these are uninhabited. It is a beautiful area to visit. The area is hard to reach which also makes it more expensive. May you have the chance to get here it is definitely worth visiting.
Sumatra
And not to forget during your tour of Indonesia is Sumatra. A beautiful island to visit. It is the single biggest island of all of Indonesia. Sumatra is located just south of Malaysia and is easy to reach from Jakarta. There are cheap flights from Jakarta. On Sumatra you will find a climate of tropical rainforest. There island is very mountainous. When you visit Sumatra you should definitely visit the Gunung Leuser National Park. This is one of the oldest national parks. You will encounter many wild species of animals, such as elephants, bears, tigers and even Orang Utans! This park must thus certainly be visited when you go to Sumatra.
Besides the park Gunung Leuser you can visit the Toba Lake. This is the deepest lake in the world. For those who enjoy water sports there is a lot to do here. The beautiful surroundings and location make practicing water sports all the more enjoyable.