What you should know about a holiday to Crete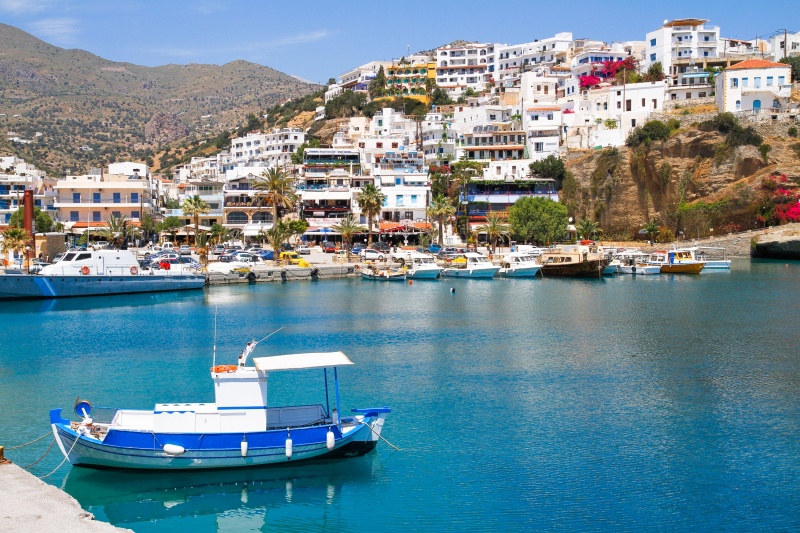 Crete is one of the most visited holiday destinations in Europe. Yearly millions of tourists go to this island to celebrate their holidays. Are you going on a holiday to Crete this summer or are you thinking about it? On this page you will read all the information you need to know for your holiday.
Crete is the biggest island of Greece and is found in the Aegean Sea. The island has a surface of 8300 square kilometres. You can find all sorts of things on this island and virtually for every kind of holiday you want. If you are looking for a sun filled holiday, a vacation to party with your friends, a romantic holiday with your partner or when you want to go on a holiday with your whole family; Crete has something to offer to everyone. On this page you will find general information about Crete, more information on the most popular areas on the island and about Crete's nightlife.
General information about Crete
Once arrived in Crete you can enjoy a well deserved holiday. When you want to go for a sun filled holiday, there are many places on this island where you can go. Crete namely knows a big number of beautiful sand beaches where you can relax and get a tan at the same time. The most beautiful beach is arguably found in the north west of this Greek island. This is Balos beach. This beach knows white strokes of sand between a couple of islands. It is also very suitable for families. The beach slowly becomes the sea and this makes the beach suitable for kids to play. Balos beach is found in Chania. Other popular beaches are Falasarna beach and Elafonissi. Falasarna is found in the north of Crete in the area of Platanas. In the south west of the island you can find Elafonissi beach. Another beach in the south of Crete close to Chora Sfakion is the beach called Glyka Nera Beach. Finally the beach Vai is also recommended to visit during your holidays to Crete. This is a beach with a protected palm tree forest on the east coast of the island.
The island Crete consists of different areas. Each area has something else to offer. To be sure of which area you want to go on a holiday to, it is good to get to know more about each area. The most popular parts of Crete to go on a holiday to are Chersonissos, Agios, Nikolaos, Agia Galini, Elounda, Kokkini Chani, Malia, Rethymnon or Stalis. Below you will find more information on each of these areas.
Chersonissos
Are you looking for a vacation in which you can party hard? Then you should definitely go to Chersonissos. This destination has everything to get loose. Chersonissos is also the most popular beach town of the island. When you are walking on the boulevard you will encounter many restaurants, bars, clubs and shops. One of the most famous places for the youth is Starbeach. During the day Starbeach is a waterpark full of tourists. In the evening people are partying and the waterpark is transformed into an open air night club. Multiple times a week special parties are organised to entertain the partying public. When you want to party on your holidays to Crete you should definitely take a look at Starbeach.
Besides Starbeach, Chersonissos has a lot more to offer. In the centre you can find around 75 bars, there are six night clubs and more than a 100 locations where you can get food. During the day you can also visit the waterpark Aqua Splash that is a little more land inward from Chersonissos.
Agios Nicolaos
Agios Nikolaos is found in the north east of Crete. It is a lively and fun place to stay during your holidays. Under the tourists this is a commonly visited place. You namely have something of everything here to enjoy. There are many good restaurants, night life facilities and you can learn a bit more about the history and culture of Crete. In Agios Nicolaos there are a number of museums. The Archeological museum is also to be found in this town. The other museum, Agios Nicolaos, is the Folkloric museum. Furthermore there are a few churches in this area to be admired. The main church is called Agia Triada, there is a dome shaped church named Agios Nikolaos and only 7 kilometres away there is a beautiful little church Panagia i kera to be found.
Who wants to take it easy and lie on the beach is doing the right thing by coming to Agios Nicolaos. The place knows two beaches. There is a small beach that is called Kitroplatia and there is a big, more lively, beach called Ammoudi Beach. The latter one is a lot busier and is well visited.



Agia Galini
One of the most beautiful places in the south of Crete is Agia Galini. This is a small beach town that originally used to be a little fishermen village. When you go there now you will see white houses that are built on a hill side. This is a pleasant sight and can give you a wonderful feeling. When you walk to the streets then you will encounter many small and steep streets in this little village. Walking through the streets can be seen as an activity as such. In the village you will find many nice restaurants, bars and terraces. The advantage of all the small streets is that the village centre is free of cars. This gives you extra rest during your holidays.
The beach of Agia Galini consists of many rocks however. When you do not like this you can choose to take a boat from Agia Galini to another beach. Finally along the beach of this beach town you will find the ruins of an old temple. These are the remains of the temple named Artemis.
Elounda
The most luxurious destination on Crete is Elounda. Here you will find different luxurious villas and 5 star hotels. For everyone that wants to stay in real luxury and wants to come to Crete, this is probably the most suitable location to stay. This town lies along the north coast of Crete and from the harbour you have a view on the Lepra island, also called Spinalonga. Spinalonga is a beautiful island and one of the most popular excursions on Crete. Multiple boats travel daily from Elounda to this island and back. During high season it can be quite busy here however.
Elounda itself knows enough things to do as well. There are multiple beaches. Most parts are private however and they belong to the resorts. Because of the location there is almost no wind and you have a wonderful view on clear waters. Because of this, the place is very popular amongst divers and snorkelers.
Kokkini Chani
On the north coast of Crete there is a small, but diverse beach town to be found, called Kokkini Chani. In this place you will find all the tourist provisions that you would need during your holiday. You can find wonderful beaches, good restaurants, beach bars, hotels and resorts. Most beaches that you will find in this place are somewhat smaller beaches and often a pier is built there. When you want to visit a bigger and more beautiful beach in the surrounding area, then you will find the beach of Vathianos Kampost 1,5 kilometres west. In total there are about 50 shops, 10 bars, a club and a few dozen restaurants to be found in Kokkini Chani.
Malia
Primarily for the young folks, the beach town of Malia is a lot of fun. This beach town is being visited by the English youth in particular for a while already, and is getting more famous amongst the Dutch now as well. It is situated close to Chersonissos and you can enjoy some good parties here as well. This is because you can find plenty of bars here and a number of night clubs. From here you can also easily go and visit Chersonissos. Besides partying, you can have a wonderful beach holiday during the day. Malia knows one of the most beautiful beaches on Crete. Malia beach is famous and it is wonderful to lay out your beach towel here during the day and enjoy sunshine, beach and a good book.
Rethymnon
In the north of the island you can find the beach town of Rethymnon. This beach town is known because of the cozy harbour. The harbour has a real Venetian character. From this harbour you can book different boat tours to other islands or other locations on Crete. Furthermore this beach town knows long and wide beaches, which makes Rethymnon ideal for a perfect sun vacation. When you are staying in Rethymnon, then a visit to Fortezza Fort is surely worth visiting. During your visit to this fort you will find different historical remains. A welcome extra of visiting Fortezza Fort is that from here you will have an amazing view over the city of Rethymnon.
Nightlife on Crete
Nightlife on Crete is literally one big party. Everyone has different expectations of a night out, but taking into account the diversity that this island has to offer, you can find almost anything. When you want to go on a holiday purely for partying, then you are best off going to Chersonissos or Malia. The other beach towns also have restaurants, bars and different night life venues, but the real nightlife scene is found in Chersonissos and Malia.
Chersonissos is the destination to enjoy nightlife on Crete. Not only on Crete however, this destination is well known throughout the whole of Europe as a real party destination. Thousands of youngsters from Europe go to Chersonissos in the summer to go crazy.
As mentioned before you can stay either in Malia or Chersonissos to enjoy the nightlife. It does not really matter in which of the two places you decide to book your accommodation, as you can easily travel between the two towns.