Clare galway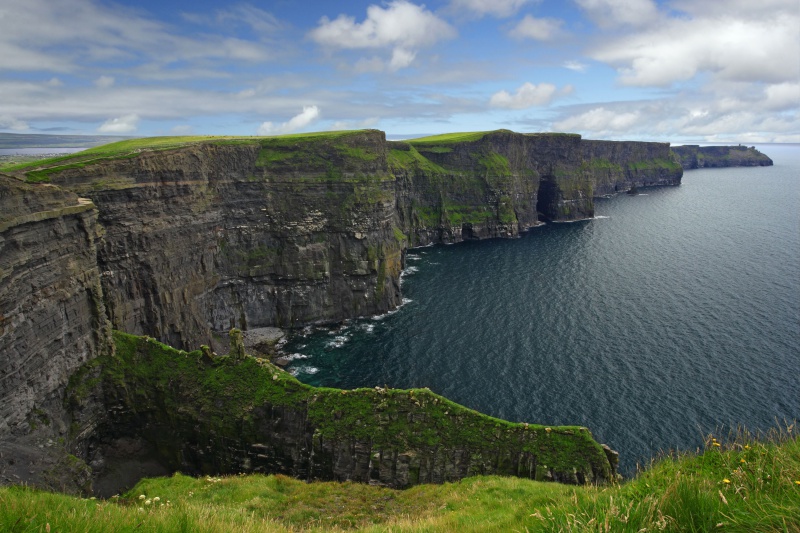 Clare is a county situated in the Midwest of Ireland in the province of Munster. It borders Irelandís third largest lake on one side, which is Lough Derg. The Shannon (the largest river in Ireland) passes through this lake. On the other side is the Atlantic ocean.
Locations
It is a rural county with lots of farmland and a naturally beautiful countryside. It holds many of Ireland's most famous attractions such as the Cliffs of Moher and the Burren National Park where you can find wild flowers that can't be found anywhere else in Ireland. There are many caves in Ireland and within the Burren, including the Aillwee Caves, and Doolin Cave. There is a long walking route which goes through East Clare called the East Clare Way which is 180 kilometres long and usually takes 8 days to complete. Galway lies North West of Clare and borders the sea, Mayo, and Roscommon and has some beautiful sights to behold as well. It also contains the largest lake in the Republic of Ireland which just so happens to be the second largest lake on the island of Ireland.
History
Clare is very old, it was first divided into baronies, ruled by different families or clans. The main clans were the McMahons, McNamaras, O'Loughlins, O'Connors, O'Garbhs, O'Deas, and O'Briens. Vikings from Denmark invaded Ireland many times during the 9th and 10th century. At the beginning of the 11th century Brian Boru, probably the most famous of the O'Briens defeated them and later defeated Vikings in Dublin. Clare also suffered heavily from the Great Famine. In 5 years over 50 thousand people died, leaving Clare with a population of about 210 thousand. Many more around this time left on coffin ships for the United States or Australia. Over the next 100 years the population continued to steadily decline, and by 1966 it fell as low as 73 thousand.



Traditions
When it comes to music, Clare has an immense history of Irish folk music. Social dancing was a big part of the culture in Clare and there has been a vast amount of dance & Céilí bands from Clare over the last century. Even today you can find many a pub with live traditional Irish music, as it's very often a weekly occurrence if not more often!
Food
Food-wise, there's a lot of lovely restaurants in Clare to visit. Plenty of them would be in Ennis, the largest town and culture capital of Clare. But from East Clare on Lough Derg to West Clare beside the Burren, you can find a large selection of fresh fish, fresh meat likely from local livestock, and lots of fresh vegetables. There's no shortage of pubs either, with each small town having at least one, but depending on the size there could be many more. Even relatively small towns around Clare can easily have up to 6 pubs to experience.
Galway
Galway also has a few tourist attractions, but definitely less than Clare. From Galway Bay you can get to the Aran Islands, which feature many prehistoric & Christian monuments. Most famously the Dún Aengus fort. Connemara, situated in the north west of Galway has some beautiful untouched landscapes to behold and is primarily an Irish speaking region. There's a gorgeous park to visit called Coole Park which was home of several famous Irish names including W.B. Yeats, and also another underground attraction; Glengowla Mines, a silver & lead mine with subterranean tours. There are also several castles to visit in Galway, such as Portumna Castle, home of the governor of Galway, Dunguaire Castle, and Aughnanure Castle. While Galway county has plenty to see, Galway City is primarily a student city with a booming nightlife and a lack of housing, but there are plenty of great bars, nightclubs, and restaurants to visit if that interests you.