Travel: Cambodia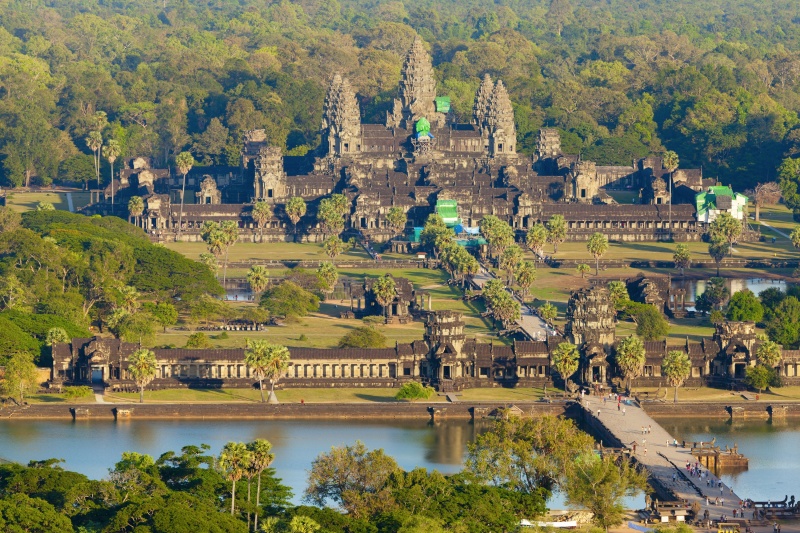 Over the last few years Cambodia has become more and more popular by tourists. Not only young backpackers pay a visit to the country, that is mostly known because of the buddhist temple complex Angkor Wat, but also older people and families with kids. Cambodia has a lot to offer and it is time to explore this. Below follows an overview with places, sights and activities that you cannot miss during your tour through Cambodia.
Cambodia in short
Beautiful temples, the Mekong river, jungle treks and tropical beaches: there is enough to do in Cambodia. The Southeast-Asian country is bordered by Thailand, Laos and Vietnam, has more than 15 million inhabitants and is officially a kingdom. It is however not all fun and games in Cambodia. During a tour through the country you will become familiar with the stirring past that the country knows. The Cambodian population has not yet forgotten the civil wars and the horrible time period during the regime under leadership of Pol Pot (1975-1979). In short, a tour through Cambodia is relaxing, interesting and can be quite intense during the visits to particular sights in memory of the past.
Organize the tour yourself or hire an agency?
If you choose to organise your tour through Cambodia yourself then you will have to be open to surprises. It can be so that the shower won't work sometimes, the busses leave later than planned or that you are suddenly walking on dusty roads full of holes. It is exactly these surprises that make Cambodia an unforgettable experience. A tour through Cambodia is easily organised by yourself, but you will have to be open to these insecurities.

The infrastructure is in comparison to neighbouring countries not so well organised, but despite this fact it is simple to book a bus ticket to your next destination (bus is the only means of transportation). On the internet there is an abundant source of information regarding Cambodia, there are travel books available and we shall give you the necessary information to travel to Cambodia on this page. In case that you rather have everything well organised and you are prepared to pay more money for this, then you could contact a travel agent that organises everything for you from A to Z. It is also possible to take part of group travels through Cambodia. Because everything will be well organised, you might have less headaches. The disadvantage of an organised tour is that everything in the itinerary is fixed, because of this you will experience less freedom than when you would organise the trip yourself.
Temple complex Angkor Wat
Cambodia has become world famous by the gigantic temple complex Ankor Wat, that is close to Siem Reap. Every year about a million people travel from all over the world to Siem reap to pay a visit to the biggest religious monument in the world. From Siem reap you can book a day in advance a tuktuk (or a whole tour) that will take you to the temple complex. Most tours and tuktuks leave early in the morning to see the sunrise with the temples in sight. It is possible to buy a day ticket or a ticket for 2 or 3 days. During your tour through Cambodia you absolutely cannot miss a visit to this temple complex.



Visit Siem Reap
You can choose to stay a few extra days in Siem Reap after visiting the temple complex of Angkor Wat. It is a typical Asian city with one Western street full of bars and restaurants. There are a lot of tourists who are able to fully enjoy themselves in this street, but there are of course also tourists who try to avoid this part of town because it does not have much to do with the real Cambodia. You can undertake the following activities in Siem Reap.
Join a "food tour": during these tours you pay a visit to the local market and you try a few different local dishes here. It is also possible to take part in a cooking course. In this case you will learn to cook the best Cambodian local dishes.
Visit the floating villages: an absolute must when you are in Siem Reap. During a visit to these villages you will experience the Cambodian way of life up close and personal. Very interesting!
Rent a bicycle: leave early in the morning (to avoid the midday heat), cycle around and get to know the local friendly Cambodian community.
Visit the night market: a typical Asian market where you can buy all sorts of stuff. This market is not only aimed at tourists, but also at the locals, this is why it has a good mix of stands.
Battambang
A logical follow up destination after visiting Siem Reap is Battambang. This medium sized city is reachable by bus or boat from Siem Reap. The ferry ride from Siem Reap takes about 6 hours, cruises the Sanker river, is full of local people and that is why it is a fun experience. The city Battambang is less touristy than Siem Reap, which is good of course for a change and it shows you the real Cambodia. You can undertake the following activities in Battambang:
Wat Banan: also in Battambang there are enough temples. Wat Banan is the little brother of Ankor Wat and is certainly worth visiting!
Phnom Sampeu: A buddhist cave complex close to Battambang. At 6 o clock in the evening all the bats come flying out of the opening of the cave in huge numbers, such a beautiful sight!
Phnom Sam Pov: a fairytale like place with multiple temples. Especially the road to this place is a lot of fun!
The bamboo trein: just outside of the city you can take a seat on a bamboo train. Not only fun for kids, but also a lot of fun for adults!
Phnom Penh
The capital city of Cambodia, Phnom Penh, can sometimes be a city where you get the feeling that you do not really want to be there. A visit to Phnom Penh may however not be missed when traveling through Cambodia. During your visit to Phnom Penh you learn about the turbulent history of Cambodia. Something you absolutely have to take some time for and absorb. You can undertake the following activities in Phnom Penh:
Royal palace: an impressive building built for the royal family in 1866. One of the oldest buildings in Cambodia!
Tuol Sleng Genocide Museum: prepare yourself. During a visit to the Genocide Museum you will find out how gruesome the time of the Khmer government was.
Killing fields: most people combine the Genocide Museum with a trip to the Killing Fields. The killing fields is a mass grave where more than 8.000 people have been killed. An intense experience you will never forget.
Sihanoukville
From Siem Reap or Phnom Penh you can take the bus to Sihanoukville. In the past this beach place was very popular for tourists. At the moment it is more of a base for tourists to continue their travels to islands close by. Sihanoukville has become a bit less safe in the last couple of years, see if you can be a bit more aware of this, especially in the evening hours. The following two islands are worth paying a visit to:
Koh Rong: a tropical island with white beaches and clear blue sea. At the moment of writing there are not yet any luxurious resorts on the island, but Koh Rong is developing rather quickly. Enjoy a coconut under a parasol on this island, go out and party for a night and sleep in a hammock for one night on Long Beach. A deserted beach (without any restaurants etc.) on the other side of the island.
Koh Rong Samloen: a smaller and quieter island than Koh Rong. Most tourists that go here stay for one night. You sleep in a primitive bungalow where running water and electricity is scarce. But this is what makes the experience all the more fun! Once a month full moon parties are organised here.
Kampot
Finally most tourists pay a visit to Kampot during their tour of Cambodia, a small place along the coast of Cambodia. There is not much to see in the village itself, but it has a lively nightlife where you will find mostly backpackers. Go out partying for a night and the next day rent a scooter to explore the area. In the neighbourhood of Kampot you can, amongst other things, pay a visit to different waterfalls, the Bokor National Park and the beautiful limestone hills in the east. In short, in the village itself thee is not much to do, but the surrounding area is absolutely worth the effort.