Backpacking in Asia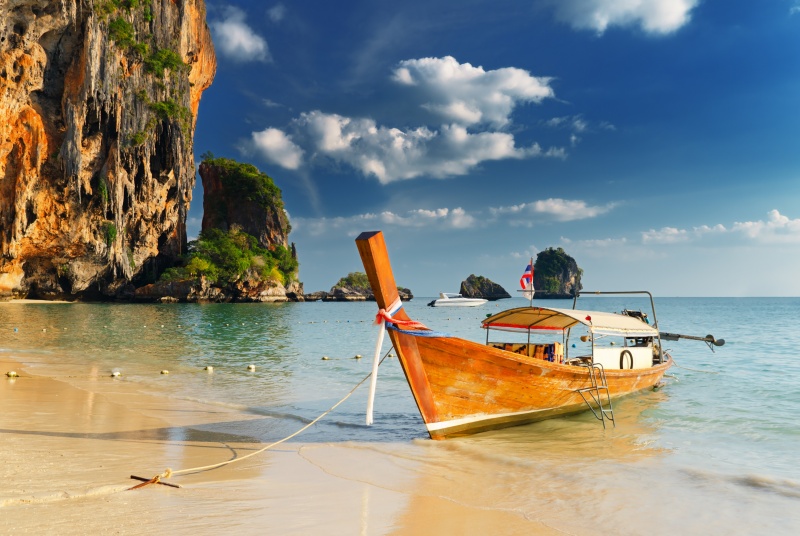 Maybe it is the ultimate way to discover new countries and cultures: backpacking in Asia. During your trip through this continent you will feel the immense diversity and history. The continent of Asia covers the area from India to the Far East, where Japan and China lie. It is very personal which destination you really like. How do you find out? By trying of course!
Backpacking in Asia can be by country or trip
When you travel to Asia it is important to think about a few important factors. You can for instance choose to go to just a single country or multiple countries. For a multiple country trip it means that you can absorb more, especially if it is regarding diverse countries and cultures. However for such a trip you ought to take more time out. In this article we will go deeper into backpacking in Asia and we present tips and ideas about starting your trip.
Checklist prior departure
Before you go off backpacking in Asia you need to keep in mind a couple of things. Here we present a convenient checklist for people that are heading off to this continent. Keep in mind that the list is dependent upon the destination of travel. Every country has different conditions and options.
Medication
Before you leave you are ought to buy relevant medication. By doing this you can ask for a medication passport, which you must sometimes show when you go travel. Besides this you will need the necessary vaccinations. As you one might expect these are different for every destination, keep this in mind. Another important element is the malaria mosquito. This nasty mosquito can make you quite ill, that is why it is important to take the necessary pills against this disease. Whilst taking these you will have almost no possibility to contract malaria during your visit to a malaria country.
Visa
For a number of countries in Asia you are required to apply for a visa before you travel to these countries. It is different per country, where in the case of visa's every country has their own set of rules. For instance take Indonesia, where you will get a visa when you arrive on the airport. Before you needed to pay for an Indonesian visa on arrival but nowadays it is free. But if you want to go to China for example, you have to do a lot more before you are allowed to enter the country. Before you are going backpacking in Asia this is an important point of interest.
Booking your flight
A flight is necessary, although you can also travel by car or train. Most travellers do not have times for this, that is why they will prefer the airplane. The best period to book a flight ticket is eight weeks before departure. It is proven that around this time it is cheapest to buy a ticket. Note that this is different per destination, so can it also be that booking far ahead of time or just the day before departure the prices are low as well.
Travel insurance
Of course you want to travel whilst being well insured. This means that, may something happen, you can be admitted into a good hospital without getting sky high costs. Therefore always check how you are insured when you are going to travel. Often it is rather simple to request a travel insurance besides your normal insurance. This often only costs a few euro's per month and can alleviate you of a lot of future problems.



Which destinations to visit?
Where should you go when you go backpacking in Asia? The possibilities and ideas are endless. In this article we present our favourite options and we will dive into the culture and nature of the countries.
Thailand
Thailand is one of the most popular destinations when backpacking in Asia. This country knows a diverse culture and history. It is also the only country in the region that does not know a colonial past. One of the reasons was that the Thai were very combative to protect their motherland. This is why you see a lot of beautiful temples and ancient Thai habits in the cities. When you are going backpacking it is a beautiful country to go to. Especially looking at the sheer amount of fellow backpackers that you will meet during your travels here.
Myanmar
Maybe the undiscovered pearl of backpacking in Asia: Myanmar. This land is also called Birma and has been isolated for a long time. Since a few years the country is opening up, whereby it is well accessible for tourists. Because of the long distances and the ancient culture it is an inspiring country to visit. Besides this there are only a select few tourists that go to Myanmar. As a backpacker you can profit from this by going to undiscovered places.
Note that you cannot use your bankcard here with an ATM. You need to bring into the country neat dollar bills, to then exchange these to the local currency. When deciding to visit Myanmar you will encounter many obstacles. However you can also look at it like this: it is only more of an adventure. Backpacking in Asia is diverse, impressive and exciting in authentic Myanmar.
Vietnam
Just like Thailand, Vietnam is well travelled by tourists and backpackers. The violent past with the French colonialism and the American war have left their traces. You will notice that Vietnam tries to get rid of its scars, although this is quite hard. Still there are hundreds of bombs left in te jungle of this country. It is still an interesting place to visit however. Not only the food is fantastic, but also the cities and nature are impressive. Do not forget to enjoy the delicious Pho and also make sure to pay a visit to the Ho Chi Minh Trail with its war tunnels.
Backpackers that explore Asia often decide to do a tour of Vietnam, together with countries such as Laos and Cambodia. The countries can all easily be visited by simply crossing the border. You can for example decide to buy or rent a scooter for a couple of weeks. with this you can easily move from place to place and you are free as a bird.
Malaysia
Malaysia is known by many tourists as a beautiful destination. The combination of nature, cities and islands are attracting many tourists and backpackers alike. The capital Kuala Lumpur has its charm because of being a multicultural city. In the country Indians, Chinese and Malaysians all live together. Because of the cultural dimension you can taste all the facets. This makes it enjoyable to go and look at the different restaurants and buildings, where you will be surprised by something new every time.
Furthermore Malaysia knows a few beautiful islands, such as the Tioman island. This island knows white beaches and a fantastic sea. Besides Tioman, there is also Langkawi, a bigger island with history and nature This is also the tax free island of Malaysia, where you can thus do all your shopping! Take note that Malaysia is an islamic country and that because of this the prices on alcohol are higher. Often you pay as much for a beer in the bar as for a decent meal.
China
Further to the east you will find the immense country of China. Many backpackers are not thinking about the fact that this industrial country has a great deal of nature. You can go to Guilin for instance, where fantastic mountain tops and old villages make up the scenery. Because of the surface area of this country it knows an immense diversity of nature and culture. The climate is also very different in the different parts of China, that is why it is a great destination in summer and winter.
When you want to see China in its fullest glory winter is a good time go. Also Chinese new year is a great show, but it is extremely busy in the cities and villages. Of course you can not miss the great wall of China, but certainly do not miss the world cities of Shanghai and Beijing. Here you will discover for yourself what development feels like, and you notice that the world grows and develops at a fast pace.
Japan
Another imposing country and what would make backpacking in Asia complete is Japan. This country knows an ancient culture and has isolated itself for a long time from Asia. The island knows a developed civilisation and knows extreme admiration from many backpackers. You can visit the country for its beautiful gardens, but also for the delicious food and the friendly people. They love technology, that is why you can find a lot of innovation in Japan, as in the fields of robotica and electronics.
Backpacking in Asia: a totally different world
Backpacking in Asia is a totally different experience in a country like China or Japan, compared to Thailand and Cambodia. These countries are namely developed in different climates and have an ancient history that is very typical for the specific location. Backpacking in Asia is therefore enormously diverse, and you get to know cultures completely different than your home culture. This is why visiting this continent can become a never ending hobby for travellers.
When you start your trip to Asia, you will notice that it never stops to amaze. Every trip will impress you anew by the impressive and imposing Asian cultures. Of course there is also the other side of the coin, because it is completely different than the western cultures. For some backpackers it can be very difficult to deal with these differences.