Backpacking in Thailand: get to know the local culture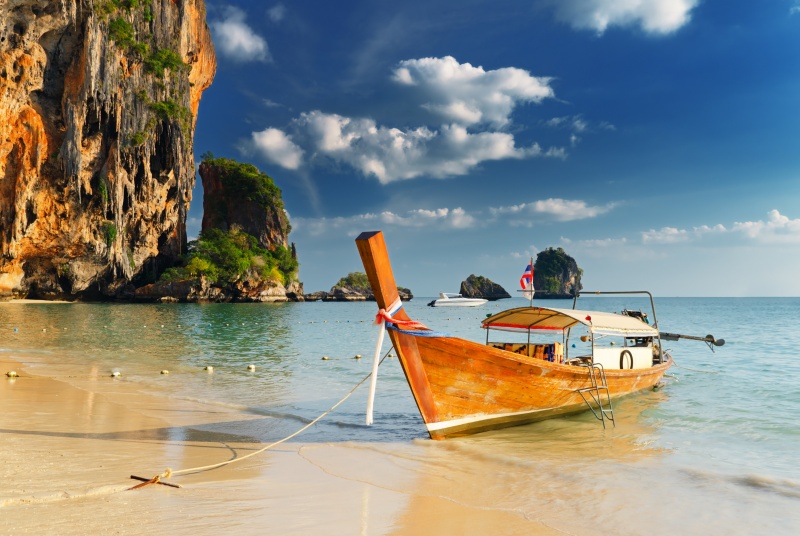 Backpacking in Thailand can open doors. Going on a vacation to the exotic country is doable by staying in luxurious resort or renting of a house, but backpacking must be the ultimate way to travel through Thailand. By backpacking in Thailand you experience the culture, the landscapes and the friendliness of the local population. Through this you deepen your experience by fully absorbing the culture and history, and you will enrich yourself as well.
Backpacking Thailand is a good starting point
When you have little or no experience with regards to backpacking, then backpacking in Thailand is the ideal starting point. The country knows a reasonable infrastructure and the hostels are well looked after. Then you can choose yourself how adventurous you will make the backpacking experience. You can for instance stay in the jungle or on the beach. Of course there are places in Thailand that you can not miss when you go backpacking in the country. In this article we will go deeper into the options and the places you must visit. Backpacking in Thailand will become a lot easier with these tips.
Background information Thailand
Thailand is a diverse country and knows a friendly and open culture. The country has a mix of mountains, beaches and jungle. For the real adventurers there is a lot to explore in Thailand. Besides adventure, this country knows amazing places to ultimately relax. Because of developments the country is very popular amongst tourists and every year thousands of backpackers make their way to South-East Asia, often with Thailand as their starting point. The population of the country is primarily buddhist, which results in many beautiful temples with an original style. The food in Thailand is also amazing and world famous! Even the least attractive looking street stalls will amaze your taste buds by their owners' creations.
Backpacking in Thailand checklist
Before travelling to Thailand there are a few things that you need to organise. When you go backpacking there are a few particular elements which are important. Of course you need to get the necessary vaccinations. May you visit an area where the malaria carrying mosquito is prevalent, you can get pills for that at a pharmacy. Take note that often you need to first ask your doctor about this, also keep in mind that malaria pills often have a lot of side effects which can be quite uncomfortable.
In Thailand the Thai Baht is the local currency. Some backpackers find it handy to have some Thai Baht on them when they arrive in Thailand. This is however not necessary, because at the airport there are multiple ATMs which accept most cards. It is most often cheaper to use an ATM in Thailand than to exchange money before hand or at the airport.
The beginning of the trip
Your trip as a backpacker in Thailand most probably starts in Bangkok, the capital city of Thailand. From numerous destinations around the world you can fly directly into Bangkok, although it may be cheaper to have a stopover in Dubai for example.
When you arrive in Bangkok you can take a taxi, one of the many busses or the train. Taxi's are reasonably cheap in Thailand, but as backpacker the better option is probably taking the bus or train. This is more adventurous and the chances that you experience something new are bigger. Furthermore you are more likely to meet new people and come into contact with the local population. Bangkok has a lot to offer and it is recommendable to stay here for a couple of days. Many travellers choose for just a one night stay and before leaving the country choose to stay a few extra days.
What to do in Bangkok
Bangkok offers a diverse set of temples and history. Think about the magical Royal Palace of Bangkok. This is a complex with beautiful temples and buildings, where the golden colour stands out. Furthermore there is the temple What Phra Kaew, which is definitely worth visiting. Besides this the city knows a big number of rooftop bars. From these bars you have a magnificent view on the city and the drinks are relatively cheap. The bar that is known from the movie The Hangover is also open to visit in Bangkok and offers an amazing view.
Backpacking in Thailand is about adventures and challenges. That is why you should also check out the other side of the city. To do this you can for example rent a bicycles. With the bicycle you can visit every place and at the same time take in the city's atmosphere. The public transport in Bangkok is also worth checking out. There are also different companies that offer bicycle tours in the city, one of them being the Dutch Ko van Kessel. They organise fun bicycle tours where you can meet new people at the same time.
Different places in Thailand
When you have discovered Bangkok you probably already started to enjoy the country. However it is a diverse country, this makes Bangkok not representable for every corner of the country. Travelling around thus certainly adds value, especially when you get to meet the local population. In this article we describe a number of other sights that you should definitely visit as a backpacker.
The Golden Triangle
The Golden Triangle is a well known spot in Thailand. Here the Mekong river meets the Ruak river. It is goes by the name of Sop Ruak for the locals, but under the tourists the Golden Triangle is well known. This is a famous place for backpackers, this is also because the borders of Birma, Laos and Thailand all meet here. From the river you have a view on the three different countries. In this area you find a Buddha, a market and also statues of elephants. This is also the area where the opium industry knew its booming days. This resulted in a museum for Opium that is found in the Golden Triangle and is worth paying a visit to.



Riding an elephant
First of all we want to stress that the riding of elephants is not desirable. The elephants are often not taken care of very well and they are forced to every day carry tourists around. There are a few exceptions however. You can for instance go to the Chiang Dao Elephant Camp of the Thai Elephant Conservation Center. On the internet you can do some research to find a place where you can trek with elephants.
Thai Islands
Backpacking in Thailand can not end without visiting the beautiful islands. The country knows an immense coast and hundreds of islands and beaches. Famous islands known by tourists are Phuket, Krabi and Koh Phangan. Here you can not only enjoy beautiful beaches and nature, but also incredible snorkelling. The islands reachable by boat. Furthermore it is possible to kayak to smaller islands, definitely a thing to try out!
Native Tribes
When you really want to observe the culture in Thailand, you need to meet real locals. Thailand knows many native tribes that you can visit in the north of Thailand. It is a lot of fun to stay a couple of days with a local family, where you can get to know their way of life.
Floating markets
Thailand knows a lot of floating markets. You don't only find these in the capital Bangkok, but in virtually every village or city. Here the market vendors sell products that they got off the land on their boats. A visit is not only recommendable to be able to buy local products, but also for the impressive sight. On the water you namely find dozens of boats of vendors that navigate criss cross each other. Every market vendor has their own type of products.
The province of Kanchanaburi
A province that is missed by most tourists is Kanchanaburi. This province is known as a heaven by backpackers, but knows a grim past. For instance, here you will find the start of the Death Railway, which goes to Birma. The bridge that facilitates this railway and the tracks are both from the Second World War and were made by prisoners. Besides this the province knows beautiful jungles and there are special temples to be found, such as the Tiger temple.
Visit a temple like Angkor Wat?
Thailand is known for her beautiful temples. There is the Prasat Hin Phimai Historical Park. This park has a beautiful temple that looks like the temples found in the Ankor Wat temples complex. In this area you can have amazing bicycle tours and walks. During your backpacking trip in Thailand you should surely see a number of these kind of beautiful parks. On the internet you can easily find a simple overview of the temples, for instance through Trip Advisor.
Shopping in Thailand
You can not leave Thailand without decent shopping. Besides the floating markets there are numerous ways to find the perfect souvenirs. You will also find cheap branded products, local products and food stalls on the markets. The local products in Thailand are special and include carved art, silver, silk and pottery. Of course you can not (unfortunately) take everything with you in your backpack!
Backpacking in Thailand will be an amazing adventure
Thailand as a country, culture and population is an incredible destination. The change in nature, cities, the tasty dishes and friendliness of the local population make Thailand a must-visit for backpackers. With the above mentioned tips and a good research you will easily get a hang of backpacking. Of course you can also choose to simply fly to the country and organise everything from there. There is a lot of adventure and excitement in travelling like this. We wish you an incredible time backpacking in Thailand!