Best sights in Barcelona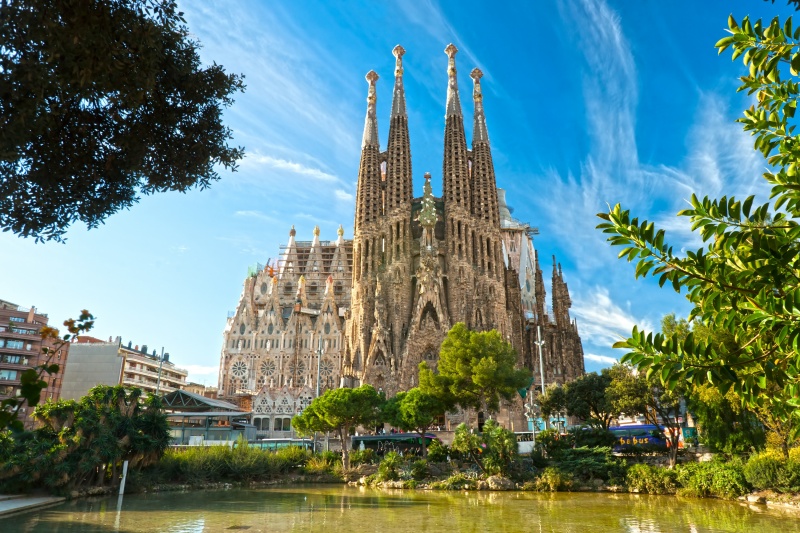 Are you going on a holiday to Barcelona? Then you want to be sure not to miss out on any of the magnificent sights in Barcelona! There are a number of impressive buildings, historical museums and beautiful parks. In this article we will tell you more about the different sights that you can visit in Barcelona.
La Sagrada Familia
La Sagrada Familia is a masterpiece by the architect Gaudi and is one of the most special buildings of Barcelona. Already since 1882, construction has been ongoing on this basilica and there is still much work to be done. It is expected that the church will be completed in 2026. Because the construction has been going on for so long, some parts are already in need of renovation! The construction of the basilica is paid with money from donations.
The biggest part of La Sagrada Familia is done, including the work on the inside of the basilica. However construction is still ongoing on the towers. Despite all of these ongoing constructions, you can still visit the church. You can see the inside of the church in its fullest glory. A ticket to La Sagrada Familia will set you back 13,50 euros.
Catedral de la Santa Crue i Santa Eulàlia
Between 1046 and 1058 the Catedral de la Santa Crue i Santa Eulàlia was built. A few centuries later a roman chapel was added and the cathedral was integrated in the monastery that was situated next to the building. Only in the year 1460 was the construction of the main building fully completed. In 1889 a gothic facade was added and central peak in 1913. The building is thus only totally completed one century ago.
The impressive church building has a length of 93 metres and a width of 40 meters. The highest point of the cathedral is an impressive 70 metres high. Inside the building you will find a choir with woodcarvings and the coffin of Santa Eulalia is present in the crypt. A monastery is located next to the cathedral, it is from the 14th century and definitely worth seeing. The cathedral is most definitely one of the top sights in Barcelona.
La Iglesia de Santa Anna
At the square Plaça Catalunya you can find La Iglesia de Santa Anna. The construction of this church started back in the twelfth century and the building knows roman and gothic styles. There is also a beautiful chapel close by and wonderful monastery gardens. In general there are not so many tourists that visit the building, because it is quite hidden away. The chances are big that you can enjoy a quiet private visit.
Picasso Museum
The Picasso museum in Barcelona is the biggest centre of art with works of Picasso in the whole world. In this museum you can find works of Picasso that date back from the period 1890-1957. You can also see a number of important works that this painter created in his youth. The museum periodically hosts exhibitions with different themes that are related to the work and life of Picasso. For lovers of art this museum is definitely a must!
Museu d'Història de Catalunya
Museu d'Història de Catalunya is an interesting museum situated in a warehouse where you can get to know more about the history of Barcelona of the past 2000 years. By showcasing photos, films, stories and videos the history is told in chronological order. After a visit to the museum you can comfortably enjoy a beverage on the terrace above the museum. From here you have a beautiful view on the harbour.



Plaça Catalunya
The beautiful square Plaça Catalunya lies on the point where three different neighbourhoods come together. It is an enormous square with trees, water, fountains and statues. Inhabitants of Barcelona come and go here that travel to their work or school. On every side of the square you can find a shopping mall. Plaça Catalunya is definitely a place to put on top of your list of sights to see in Barcelona!
Parc de la Ciutadella
Do you like quiet and nature? Then you should definitely visit Parc de la Ciudatella. This is beautiful park was created in 1888 and is often visited by the local population. It is the biggest park of Barcelona and amongst other things you will find the monumental waterfall, a pond and a beautiful garden in English style. It is refreshing to walk through this park, but you can of course also have a picnic here!
Park Guëll
Park Guëll definitely belongs to the sights that you can not miss in Barcelona. The park is designed by the famous architect Gaudi and originally villas would be built here. This plan was however cancelled, because the sales did not go that well. In the park you find beautiful designs of the architect, like a colourful salamander, a space built on pillars, a winding bench/balustrade, a number of beautiful houses and viaducts in different styles.
L'Aquàrium de Barcelona
The sea aquarium L'Aquàrium de Barcelona is situated in the harbour. It is said that this is the biggest aquarium in Europe. The 35 basins of the aquarium are filled with a total of 6 million litres of ocean water. Every basin represents a different ocean area and you can walk through them through a tunnel. In total there are eleven thousand fishes and a number of crustaceans, sharks and molluscs. A unique way to get to know the life in the sea!
Boqueria
The market of Boqueria is built in 1914 and is covered by a beautiful cast iron roof. It is always very busy here, but it is definitely worth it to come and have a look. It is probably the biggest market for fresh products in Europe and you will find a big diversity of food items here. If you want to eat or drink something during your visit here, you can go to the market restaurant or one of the many bars on the market.
Are you soon travelling to vibrant Barcelona? Then this list of sights in Barcelona is a good aid to discover which places you want to visit in this city!