Travel the West Coast of America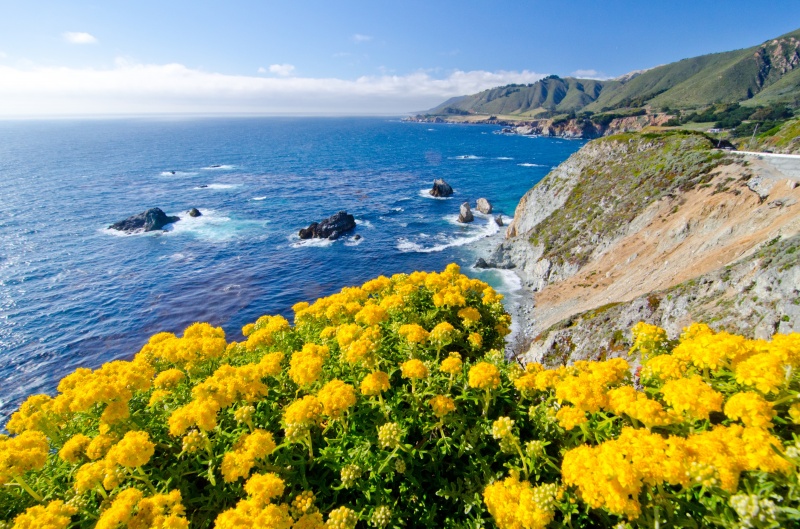 Do you want to travel along the West Coast of the United States of America? Then you can find all the information you need regarding such a trip on this page.
You find will find excellent tips about a great holiday here on this page, these handy tips make it possible to learn more about travelling in the United States. A good preparation makes a tour along the West Coast of America a lot more pleasant.
Variation within an exceptional landscape
The West Coast of the United States is perfect to make a tour through. The nature is beautiful with many National Parks such as Yellowstone, Death Valley and the Grand Canyon National Park. At the same time there are also unknown states to be find and there is a lot to discover of what you may not count on at this point in time.
Organised tour or plan it yourself
Are you choosing for an organised tour or would you rather organise everything yourself? The West Coast of America is very organised and for Europeans it is no problem to plan the trip yourself. The booking of hotels, flights and the rental of a car is usually not a problem and is organised in a similar way as in Europe for instance. When you are looking for beautiful places they are often excellently represented in a travel guide or you can get to know great places to go through different travel stories on the internet.
Do you not want to organise everything yourself? Then there are plenty of travel agents that would love to take this job in its totality. For a tour along the West Coast it is possible to fully outsource all of the organisational elements and it doesn't mean that you have to travel with a group. Families and elderly often choose to take an organised tour so that there is a better structure in the day and there is an obvious planning. The risks are lower and it will be easier to calculate the total costs before you go.
When you have a general sense of adventure and enjoy being surprised then it is more fun to hit the road by yourself. Traveling through America is best to do by car, camper or airplane. The public transport is quite different than in Europe for instance. Of course joining a cruise ship is also one of the possibilities. In that case you primarily visit the coastal towns or once in a while you would travel land inwards by bus.
Preparations for a trip to the West Coast of America
Making good preparations is important, especially for making a trip along the West Coast of America. Use as many travel guides as you can and read up some travel blogs from the internet. Slowly you will get a lot more ideas and then you will be able to get the most out of the time that you have in America. Never forget to take a travel guidebook with you and read all the guidebooks carefully to not miss anything. You will notice that the preparation for a trip is very useful and a lot of fun.



Booking a flight to the West Coast of America
Dependant on the route that you choose there is a suiting flight ticket for your trip. From most countries there are multiple airlines that offer flights to the US and prices can vary a lot. Some airlines may seem very cheap but there might be additional costs. When you are making a stopover its important to think about this beforehand. You can take a look at websites like Google Flights, Skyscanner and other sites to compare prices to get an idea about the costs of the tickets.
Planning the route though America
The planning of a route is the first thing you do when you are planning a tour. You can use Google Maps for instance to easily do this and then you can look per location what there is to do where. You can also use Google Maps to navigate in America. Most roads are clearly shown on Google Maps and the road signage is excellent in the States.
Driving a car in the United States
Renting a car is very common in America and you surely don't have to run into any problems with regards to that. Through the internet you can quite simply make a reservation to rent a car and the roads are generally of high quality in the United States. The rental of a car is quite cheap and the gas is, compared to Europe for instance, quite cheap. At the counter they will ask you how many dollars you want to spend and then you can fill up your tank. In the States you pay per gallon (3.8 liters) and that is also something to keep in mind for when you get to the States.
The rental of a navigation system is fairly expensive and you do not really need it. Use a map or preload the route in Google Maps on your phone while you have wifi on your phone and you can navigate by using your own phone and Google Maps. Be aware of the speed limits in America to avoid high speeding tickets. In California you can easily be fined for more than 200 dollars by making a minimal speeding offence.
Nature in America
The United States is full of beautiful nature. Most people visit multiple parks during a visit to America and buy a ticket with which you can visit multiple parks for one set price.
National Parks are easily accessible by car. Learn about the governing local laws to be as respectful as possible with regards to the American nature. When you are visiting multiple cars you will get a spectacular impression of the American nature.
The weather on the West Coast of America
The temperatures can vary a lot in the United States. Of course the temperatures are highly dependant upon the season in which you travel to America, but especially in the different locations along the West Coast of America you can feel quite big changes. In the summer months it is for example 40 degrees celsius in Las Vegas, while it is around 20 degrees in San Francisco. At the same time the altitude of your location plays a role. You understand that on the top of a mountain it is much cooler than down in the valley. Make sure you bring clothes for different temperatures depending on the season you are travelling and the places you are planning to visit.