Things to do in Los Angeles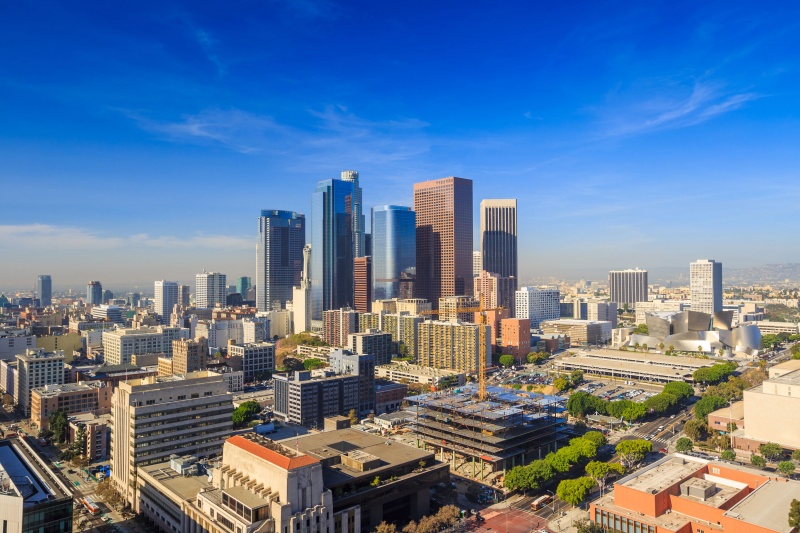 Los Angeles, in short L.A., is the biggest city on the West Coast and the second biggest city of the United States. Los Angeles is a world city that attracts many tourists. There is a lot of variety in the things you can do and see in the centre of the Western music and film industry. This article will give you information about different things that you can do when visiting Los Angeles.
Griffith Park
Griffith Park is an enormous urban park located at the end of the Santa Monica Mountains, which was created in 1896. The park covers 1740 hectares and has ten million visitors each year. The park has been called the ''Central Park of Los Angeles'', but Griffith Park is much bigger and more untamed than Central Park. Most of the park is for people who like sports and want to stay active. However, there is a big part of the park which is used for laid-back activities as well, for example picnicking with the whole family. Griffith Park is a perfect place to have a morning jog or a long walk at night. Griffith Park is not only a famous place to be for tourists, but also for L.A locals. Since your L.A visit schedule is probably filled with touristy destinations, one of the nicer features of this destination is that you can see what locals do on a daily basis. It is a very popular place to go for a hike. When you arrive at the top of the Griffith Park, you arrive at the Griffith Observatory. The top provides you with a beautiful view of Los Angeles and the Hollywood sign. Griffith Park is a popular filming place as well. In movies such as Back to the Future and Short cuts, the Park is featured. The park does have closing hours. The park is open from 5:00 AM to 10:30 PM.
Santa Monica Pier
The Santa Monica Pier is an amusement pier located at Colorado Avenue in Santa Monica, Los Angeles. The pier opened on September 9th in 1909, which makes the popular pier more than a 100 years old. While the pier is fairly old, it still is a popular place to see and go for both tourists and locals. There are a variety of things to do at the pier. From cafés to fishing spots, from shops to attraction parks, the pier provides a range of different shops and activities. Pacific Park, a family amusement park that includes a solar panelled Ferris Wheel, is also located on the Santa Monica Pier. The pier also offers many photo opportunities and provides with a beautiful view over the ocean. The Santa Monica pier is a popular place where a lot of celebrities go as well. For film and TV show producers, the pier is a famous place to shoot as well. Movies such as Titanic and Forrest Gump, and TV shows like The Amazing Race and Gilmore Girls have been shot at this location.
Hollywood sign
The Hollywood sign is an American cultural icon that is known all over the world. The sign is located in Griffith Park in Los Angeles, California. The Hollywood sign is a famous spot when you are hiking in Griffith Park. From the sign, you overlook Los Angeles and get a beautiful view. However, actually getting close is not allowed. There are barriers to prevent unauthorized access. There is a $1000 fine if you get too close to the sign. The Hollywood sign consists of ''HOLLYWOOD'' written in white capital letters spelled out. The letters are 45 foot tall and the sign is 350 feet long. The construction of the sign was in 1923 and is designed by architect Thomas Fisk Goff. In 1978, the sign got restored, which was cost a total of $250,000. There were nine donors, including Hugh Hefner and Warner Brothers, who all donated $27,777.77. When a movie or TV show is shot in Los Angeles, the Hollywood sign is frequently shown in a scene to show viewers where the movie or TV show is shot. There are a lot of remakes of the Hollywood sign in different cities and states in the United States.



Hollywood Walk of Fame
When in Los Angeles, the Hollywood Walk of Fame is a must see as well. The Walk of Fame is located on Hollywood Boulevard and runs 1.3 miles (2.1 km) long. On the ground of the Walk of Fame, stars are have a monument in public to show their achievement in the entertainment industry. Expect to walk on famous musicians, actors and directors you know including Michael Jackson and Charles Chaplin. With an estimated ten million visitors per year, the Walk of Fame is a popular tourist destination. The Walk comprises 2570 stars. E.M Stuart is credited to have brought the original idea to the table. A committee was set up to form a plan and make a sketch. By 1955, the plan was in motion and construction began in 1958. If you want to have a nice walk and see some of Hollywood's history, the Hollywood Walk of Fame is the perfect place for you.
Los Angeles County Museum of Arts
The Los Angeles County Museum of Arts, better known as LACMA for locals, is an art museum on Wilshire Boulevard in Los Angeles, California. The museum is established in 1910, which makes the museum more than a hundred years old. Since LACMA is the biggest museum of the West Coast, it is a must see when you visit Los Angeles. It attracts more than a million visitors annually. Their art collection is phenomenal and varies a lot. Modern, Latin American, Asian and Islamic art is easily found there. When you visit the LACMA, it will definitely cost you a whole day if you want to see all of the different art collections. The LACMA also has a huge palm tree backyard that also contains the beautiful Urban Light Sculpture by Chris Burden.
Universal Studios
Universal Studios is one of the biggest movie producers in the entire world. NBC Universal came with the idea to open a family theme park that is both a film studio and an attraction park that is open for visitors to enjoy their stay in Los Angeles. Since the movies produced by Universal Studios are successful, they also wanted visitors to get a "behind the scenes" experience of the movie industry. Ever since the park opened its doors on June 15th in 1964, it became a huge success with approximately five million visitors per year. There are sixteen attractions in total, including a water attraction and a rollercoaster. The park became so successful that NBC Universal opened the park on different locations across the United States. Universal Studios is a fun destination if you want to switch up your schedule when you visit Los Angeles. Since it is very different than the above mentioned destinations, Universal Studios Hollywood is definitely a place to check out when you visit Los Angeles with your family.
Staples Center
Staples Center is an enormous sports arena located in the neighbourhood Downtown L.A in Los Angeles. The Center has multiple purposes but it is mostly used for big sport games or events. Staples Center opened in 1999 and has a 950,000square feet field. Popular US basketball teams such as L.A Lakers and Los Angeles Clippers play there all the time. It is possible to get a tour inside and around the Staples Center or see a game there at night. Staples Center is located at a fairly crowded place in L.A, called L.A Live. At L.A Live, concert theatres, restaurants and movie theatres can be found. L.A Live is a popular place for locals when they want to do something fun at night.
Rodeo Drive
This destination is probably one of the most popular shopping street in the United States. Rodeo Drive is a two mile street that is located in a luxurious neighbourhood called Beverly Hills. On the street, you find stores that sell luxury-goods like Chanel and Prada. You can also find the newest cars parked over there. Rodeo Drive is a shopping destination and a tourism magnet at the same time. Rodeo Drive is nice to visit if you want to spot celebrities or spend a lot of money on luxury goods. Other than that, it is a nice boulevard to walk around and see what L.A locals like to buy.