The easiest tuna salad recipe you値l ever read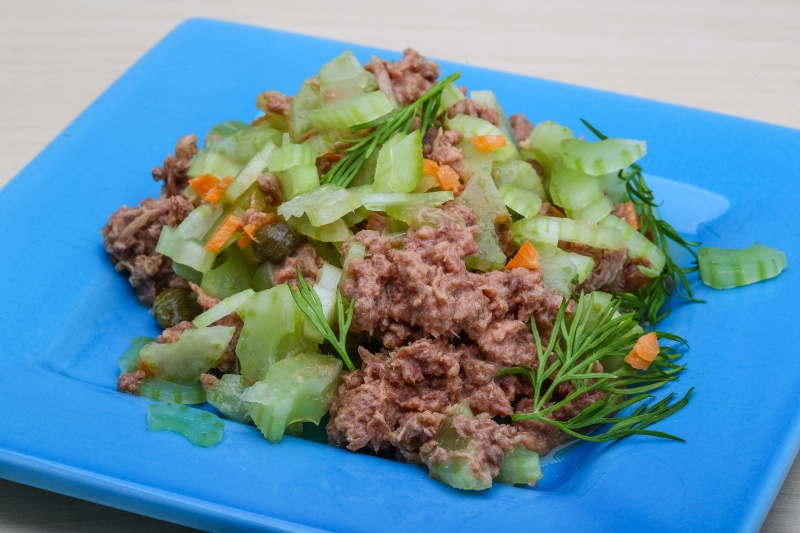 Nobody likes a party without good party food. That痴 exactly why our easy-as-pie tuna recipe will be such a hit! Just a few ingredients (that are, fortunately, also super cheap) get you a long way. Give all of the ingredients a good mix and you値l have the best tasting tuna salad you and your friends will ever eat.
Tuna is a very versatile food. Buy it whole, and make a perfectly prepared tuna steak with a fancy side; or buy it canned, and use it for tuna salads and sauces with fish in them. It doesn't matter what you do with tuna; it's almost always guaranteed to be delicious! In this article, you'll find the one recipe that we'll always keep as a staple: a super easy tuna salad recipe with only a couple of (inexpensive) ingredients. Serve this delicious tuna salad to your hungry guests, or gobble it all up yourself; you won't disappoint either way. Tuna salad is also a great recipe to bring along to a potluck or a picnic. How do you like your tuna salad? It doesn't matter; you can always add more of something in this recipe to make it to your liking! If you want more acid in your salad, use more lemon or pickle relish. If you want something healthy, use yoghurt, etc.
Ingredients
First thing you need is tuna. Two cans should be enough. We recommend buying tuna that's in water and not in oil. This is because the tuna in oil can turn out being, well… very oily. If that's something you're after, by all means do it. It's all about preference.
Celery provides that extra bit of crunch and freshness in this tuna salad. You don't need a lot of it; once you've chopped it up you can put in about two tablespoons.
Red onion is essential in this recipe. Onion and tuna go perfectly together! If you don't like how intense red onion tastes, soak it in cold water for five to ten minutes. It'll soften up the onion a little and take away some of that strong scent and flavor. You need about two tablespoons of the stuff (or more if you're really into it.)
Parsley gives this tuna salad a subtle taste. You can leave this out if you prefer.
The creaminess in this tuna salad is derived from mayonnaise and mustard. If you're really savvy you, can attempt making your own mayonnaise, but if you're going the easy route, you might as well buy the store kind. You're going to need at least 1/3 cup of mayonnaise. If the tuna salad isn't creamy enough to your liking, you can always add more afterwards.
Just a kick of mustard can change this salad from bland to tangy and delicious; use about a table spoon of mustard. We really like using whole grain mustard, but any mustard will do.
A little pickle relish will go a long way! Use as much or as little as you like, but we recommend using at least two teaspoons of the stuff.
Don't forget to season! The finishing touches for this salad include some ground black pepper and a fresh squeeze of lemon.


The healthy version
If you're on a diet, but just can't go without your tuna salad, don't fret! There are some healthy products you can substitute some ingredients with, so you'll end up cutting your calories a little. For instance, you don't need mayonnaise. Instead, use half a cup of plain Greek yoghurt, a teaspoon of dill, and some lemon to make a mixture that looks similar to mayonnaise, but tastes just a tad zingier (and has fewer calories!). You don't need to replace any of the vegetables if you're looking for something healthier; vegetables have very little calories. If you need to make a larger quantity of tuna salad, we suggest adding in some chopped lettuce and maybe even a little bit of (grated) carrot. The lettuce will give your salad more volume without upping the costs and the calories of the tuna salad.
Preparation
Break open the cans of tuna. Drain the tuna by pressing the lid into the tuna and tilting the can. Be careful when opening up the cans, the lids are ridiculously sharp! You'll want to drain the tuna really well, especially if they are soaked in oil. You don't want any of that oil in your tuna salad. Next, mix all of your chopped up vegetables with the tuna. Take your celery, red onion, and parsley (if you have it), and give the whole mixture a good stir. Start mixing the wet ingredients together to make the creamy mixture that will bind your tuna salad together perfectly. Take your mayonnaise, mustard, pickle relish and a little bit of lemon and mix it together in a separate bowl (or, if you're going for convenience, just add it directly to your tuna and vegetable mixture.) Mix everything together again, and top with a good squeeze of lemon. You can serve this immediately, or let it sit in your fridge until you're ready to eat it.