Nightlife in Amsterdam: the 12 most fun venues!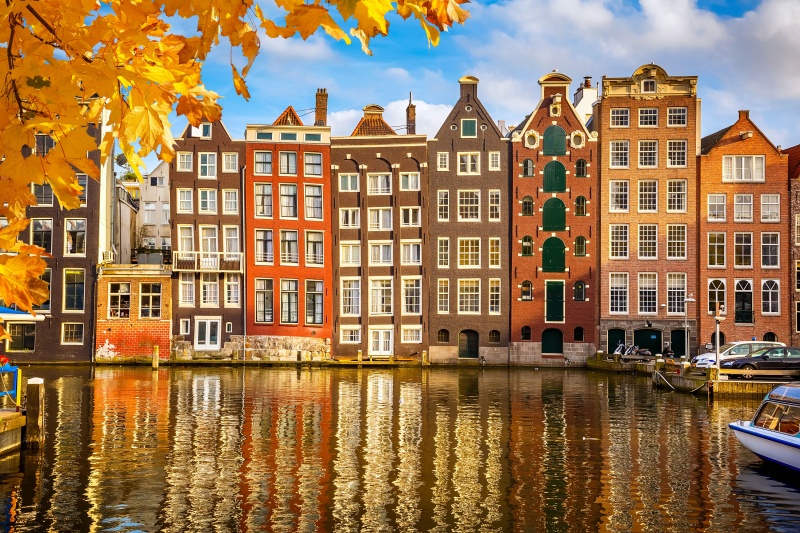 Amsterdam is the biggest city of the Netherlands and is often seen as the centre. It is thus not so odd that the nightlife is seen as buzzing and hip. In the city of Amsterdam you will find a mix of different cultures and you will see this in the nightlife as well. Do you want to go out in Amsterdam? We have listed the 12 best locations for you!
1. Paradiso
Maybe the most well known nightlife venue in Amsterdam: Paradiso. It used to be a church in the past, but it has grown out to be a true pop temple. A number of big names have played on the pop stage in the last couple of years. Almost every day there is a concert of a big artist or less well known artists. Paradiso has a big and a smaller hall. The capacity of the big hall is 1500 visitors. The basement also houses some performances quite regularly. The club is located on the Weteringschans, close to the Leidseplein and it also attracts a lot of tourists.
2. Melkweg
Paradiso is maybe the most well known nightlife venue in Amsterdam, the Melkweg is on a solid second place! You can also come here daily for a concert, an event or a party. It is not all about music and parties, but also about film, photography, dance/theatre and media art. In the Melkweg different famous artists have performed, like the Foo Fighters and N.E.R.D. The club is situated on the Lijnbaansgracht, close to the Leidseplein.
3. Escape
The club Escape should certainly not be forgotton on this list. It belongs to the most popular of clubs for years on end already. Contrary to the Melkweg and Paradiso, this club is not close to the Leidseplein, but on the Rembrandtplein. The club features a modern interior, beautiful lighting and many visual effects. On a higher floor you can also eat in a cafe that belongs to the club.
4. Bitterzoet
A hip club situated in the heart of Amsterdam is Bitterzoet. This name matches the program perfectly. The name of the venue means 'bitter sweet' translated from Dutch into English. The music varies often and you can choose for a night of 'bitter' or 'sweet' music. You can see everything here, for example indie, rock, hiphop or reggae, but also funk, punk or ska. The focus of the organizers lies often with finding upcoming talents and in this way a variety of bands, musicians and DJ's are brought together. Bitterzoet is not only a club, you can also come here for a performance, a concert or an exhibition.
5. Club AIR
Do you want to go out in Amsterdam and you enjoy modern, hip clubs. Then you should definitely go to club AIR! This is one of the most trendy clubs in the capital and the interior is ultra modern. There is a steady program each week, but there are also varying parties. Club AIR mainly gained popularity through the Amsterdam series of Penoza, but when you go inside you will find out that the club remains popular for a reason.
6. De School
Club Trouw had to close its doors last year unfortunately. But now the organisers of this club started a new project: De School. This nightlife venue has, just like club Trouw in the past, a 24 hour license. The club itself is only open until the early hours however, and then another part of the building opens. De School consists of a concert stage, a cafe, a restaurant and a gym that are all open during different parts of the day. When you do not like to be among tourists all the time, then De School is definitely a good place to go. Almost no tourists come here.



7. ClubNL
ClubNL is maybe one of the first lounge clubs in the Netherlands. The building is situated near de Dam and the club is open every night. You can not only relax here, but you can also dance the whole night on a wonderful dance floor. It is a chic club with a beautiful décor of red velvet. Different famous artists, like P. Diddy and Mick Jagger, have visited this club in Amsterdam. When you haven't visited yet, then we definitely recommend you to come here.
8. Jimmy Woo
A famous club situated on the Leidseplein is the Jimmy Woo. You should definitely come and visit this nightlife venue. There are thousands of lights in the club and they also use a number of visual effects, which makes it look like you are in a club in Paris or New York. Furthermore you will see a lot of Chinese and Eastern elements in this club. Do you want to relax? Then you can take place at one of the tables in the big lounge area.
9. Radion
A somewhat less well known nightlife venue is Radion. It is situated on the Broedplaats ATCA in Amsterdam Nieuw-West and consists of an eatery, a club and an expo-hall. The building used to be a dental centre and the building has a nice front and is well decorated. In the big hall there is a stage that is used for club nights, but also for debates, presentations and theatre and dance performances. In the eatery there are often also concerts and the expo-hall is used for seminars, exhibitions, indoor markets and even fashion shows.
10. Chicago Social Club
Do you want to go out in Amsterdam and are you looking for a club with a cozy and intimate atmosphere? Then the Chicago Social Club is maybe exactly what you are looking for. Thursday, Friday and Saturday nights this is a fun and intimater nightclub with two floors. The program is varying a lot, but often they will play techno or hiphop. The Chicago Social Club is not only a club however, but at the same time a bar as well. When you come here on a Sunday, you can relax and enjoy a drink together with friends.
11. Sugar factory
A great club that views music as a form of art is the Sugar Factory. The program of the club is always unique and fresh. You can dance to the music of a DJ or a band, but they also organise fun salsa nights. A variation in music styles! You need to pay entry at this club, but the drinks inside are not so expensive. At the beginning of the night there are often live performances, theatre shows and cabaret shows. It sure is an experience to go here once!
12. Panama
A real cultural hotspot in Amsterdam is Panama. It is just as busy as any other nightlife venue in Amsterdam and that can sometimes be very enjoyable. You come here to party, but it is also possible to lunch or dine at Panama. The building used to be a warehouse, but it is now completely transformed into a hip club. Many big DJ's have performed here and every weekend there is a new program.