All information about a holiday in Kos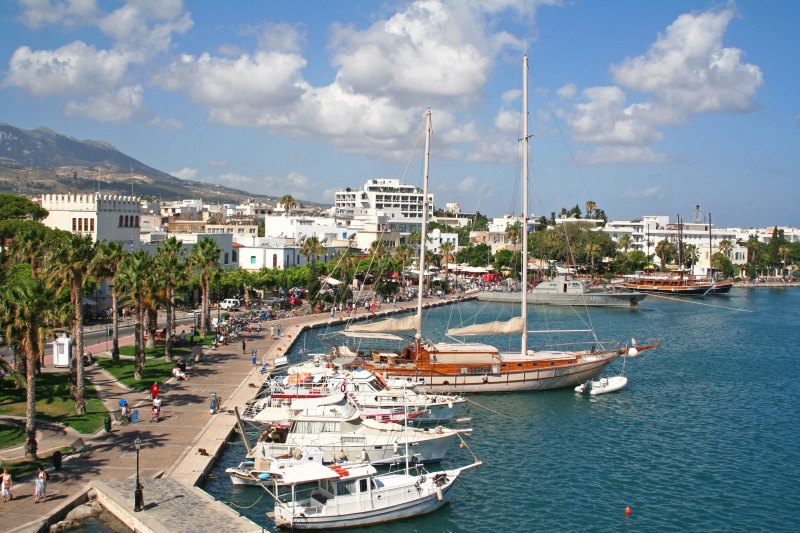 Every year thousands of tourists travel to the holiday destination called Kos. The island of Kos is found in the Aegean Sea and is part of the Dodecanese. This is an island group of more than 200 islands. A holiday to Kos has something for everyone. Kos is a varied holiday destination. Are you curious what Kos has to offer you? Here you will find all the information.
General information about Kos
Kos has a surface area of 320 square kilometres and is a relatively small island. However, this island has something special to offer regarding culture, nature and nightlife. Are you looking forward to a relaxing sun vacation after a year of hard work? Then you should not be afraid that Kos does not have enough to offer. On the area of beaches Kos is nothing short of being amazing. The island has a coastline with a length of 120 metres and knows wide sandy beaches. Besides you will find clear water in many places. Make sure that you bring enough sunscreen, because you will soon spend many hours on the beach.
Culturally speaking there is plenty to see on Kos as well. The founder of the medical science is born here and taught here. This was Hippocrates. There are still many reminders to be found of him and there is even a Hippocrates museum to be found here in Kos-City. You can still admire the famous tree under which he taught in the city. Furthermore there are archeological places to be found around the city, such as a gymnasium and amphitheatre.
When you want a vacation in which you can go totally nuts in the nightlife then Kos is also the perfect location to visit. There are different places where you can go out on this Greek island. More information about nightlife in Kos is to be found further on in this article. The most popular destinations to vist are Kos Town, Psalidi, Kardamena, Tigai or Mastichari. Below here we will give more information about the different destinations on the island.
Kos Town
The biggest town on the island and also the capital is Kos Town. This is also a tourist destination and is for many the place to go on their holidays. The city knows a cozy harbour and a boulevard. On the boulevard you have many locations to eat good food or to go for a drink. Besides it is also nice to visit the harbour of this island. from this harbour it is also possible to make trips to other islands. There are different organisations that offer day trips to visit other islands. Besides this, Kos Town knows many fun shops to visit.
It is an activity as such to walk through the town and visit the different shops and stalls. The above mentioned cultural sights are also to be found in Kos Town. The 2.000 year old tree that was planted by Hippocrates is there as well. The Hippocrates museum is found in Kos Town and the same goes for the gymnasium and amphitheatre. Finally there is also a stronghold to be visited in the town.
Psalidi
Do you want to stay close to Kos Town, but not in the business of the town itself? Psalidi is a small coastal town only a few kilometres away from the city. This beach town knows many all-inclusive hotels, eateries and a few bars. In this way you can easily visit the city during the day, but you are staying in a quieter location. Besides this, there is however more to be experienced in Psalidi. In this coastal town there is a natural reserve. When you visit the natural reserve you will encounter different wild species of birds and in the mean time you can enjoy the beauty of nature around you. In the area of Psalidi you can also discover natural hot springs. You can also take a day and make it into a day trip to simply relax.



Kardamena
The biggest coastal town of Kos is Kardamena. This beach town is in the south west of the island and during the summer you will find many English people here. They are always partying hard. Kardamena knows a long, wide and beautiful beach. The beach is well suited to enjoy a sun vacation or to recover from a long night out. The nightlife in Kardamena is sometimes even rougher than in Kos Town.
Kardamena also knows a long boulevard where you can find many delicious eateries, shops to shop and bars to have a drink in with friends. The boulevard is free of cars which will really add some rest to your holiday. It also consists of a harbour. From the harbour there are daily boats going to other destinations and to discover the surroundings.
Tigaki
Would you rather stay in a more quiet bathing place? Perhaps Tigaki is worth visiting. This place is in the east of the Greek island and lies 12 kilometres away from Kos Town. It consists of a long wide sandy beach and is very suited to enjoy a quiet beach holiday. Of course there is more to be experienced in Tigaki. In total there are a few dozens of bars, but there is no explosive nightlife atmosphere such as in Kardamena or Kos Town. Furthermore you will find many restaurants and it is a good place to go shopping. Do you want to go to Kos Town or another location? There are multiple busses going to Kos Town daily. However you can also choose to rent a bicycle. The island of Kos is namely known as a real bicycle island. A fun bicycle tour from Tigaki to Kos Town is an activity as such. You will straight away get to see a lot of the island and you are also doing something physical during your holidays. To cycle from Tigaki to Kos Town you should amount for around an hours ride on average.
Mastichari
In the middle of the island on the north coast you can find the beach town of Mastichari. This is a small beach town however. Mastichari knows a historical museum with many terraces where you can enjoy a drink. There are small alleyways to be discovered and there is a small harbour that you can visit. To explore this little town by navigating the little streets is surely a lot of fun. Besides you can visit the little harbour. From this harbour you can make a boat tour to the island of Kalymnos. During the day it is also fun to go to the Lido waterpark, which is close to Mastichari.
Nightlife on Kos
Who wants to go on a holiday to Kos for a vacation full of parties is also on the right island. On Kos you can find good parties and people will keep going until the early hours. If you want to party every night of your holiday, you are best off to stay at one of the party destinations. You can do this in the north east of the island in Kos town or in the southwest of the island in Kardamena. Both areas are well suited to go totally crazy. When you are going out in Kos Town there are two streets where you can go clubbing. These are closely situated around the harbour and are together called the Big Barstreet. At the Big Barstreet there are a number of known clubs, cafes and restaurants to be found. On this street a big variety of musical styles is being played, which makes it that there is something for everyone. Several good party locations that you can visit in Kos Town are Kuala, Heart Rock Cafe, Fashion Club, Charisma or The Cactus.
Considering the young folk, Kardamena is a very popular place to go out. This area knows a buzzing nightlife. You will mainly find Brittish tourists, but also a lot of Dutch people come here nowadays. Around the centre you will find many nightlife venues to go clubbing. In Kardamena there is also a Barstreet to be found. On this Barstreet there are many bars and clubs. Some popular clubs in Kardamena are Zoom, Starlight and Downtown.
Activities on Kos
Besides the wild nightlife and the recovering on the beautiful beaches, Kos has a lot more to offer. Kos is seen as a real bicycle island. There are good roads to cycle over, you can easily rent a bicycle and during the cycling you can enjoy beautiful views and landscapes. You can make a bicycle trip to other villages. In this way you can discover different villages.
Do you want to make it even more adventurous? Then there are different excursions to be booked. All of the highlights of Kos are possible to be seen in one day by booking an island tour. On the road a guide will give you all the information about the highlights of the island. The island Kos lies close to Turkey. Therefore it is also possible to make a trip to Turkey. Most excursions from Kos are going to the Turkish beach town Bodrum. Furthermore you can also book an excursion from Kos to the volcanic island Nysiros. This is a popular and challenging excursion. Finally you can practice different water sports. Several popular water sports are for instance sailing, parasailing and surfing.