Importance of social media for companies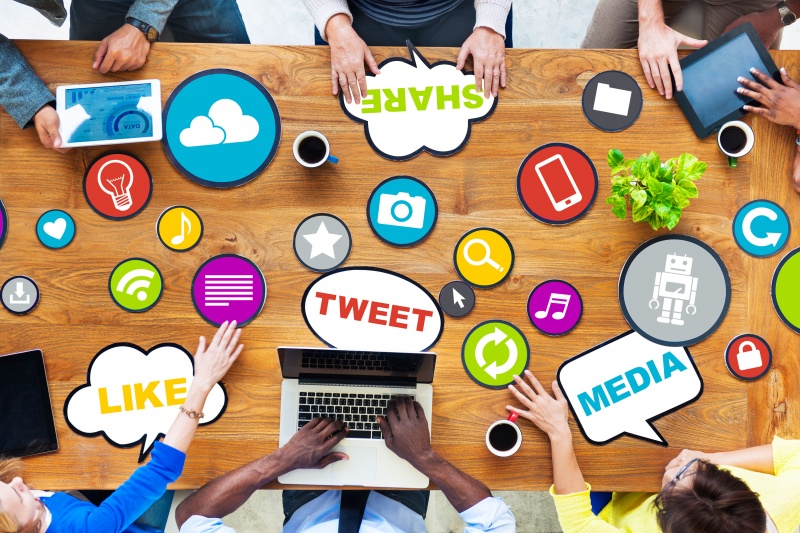 Do you have your own company or do you work for an agency where you want to promote the business? Then you must surely know that social media can play an important role In this. Social media is becoming more and more important for companies nowadays, read more about the importance of social media for companies.
Social media
Most people will know about social media, Twitter, Facebook and LinkedIn for example. They are online platforms in which users can supply content and share it with each other. Interactive, transparency, integration, dialogue and exchange are central with socal media. At this moment in time social media is still growing. In the daily lives of many, social media has become a platform that cannot be missed anymore. In the beginning it were mainly people using it for their personal use, but nowadays more and more companies are making use of the possibilities of social media.
Social media gives companies the possibility to more simply come into contact with their target group. But also brand awareness can be increased by social media. Besides this the communication with the target group can also become more personal. The most well known social media at this moment are Facebook, Instagram, Twitter, YouTube and LinkedIn.
Advantages social media
Social media has many advantages that companies can profit from. It is a good choice when you have your own company to start and use the different kinds of social media. We have listed the advantages for you here below:
Brand awareness can be increased with social media. More often than ever, people are getting into contact with a company through the internet. The online presence of a company is being enlarged through this. The reach of a brand or product is then also becoming greater.
The revenue will also rise because the brand awareness has become bigger. More people will hear the name of a product, they will become curious and might try it.
Using social media doesn't have to be expensive. It can be very cheap, and even free. Although it may use up some of your time. With social media being cheap or even free, it makes it interesting for small and large companies alike.
Social media is a great platform to use to keep your customers up to date. Any news in the company you can share immediately with all of your customers that follow you online. You can for instance share a post weekly, promote new products or share information about a service. The competition will also make use of social media, therefore be sure to keep an eye out what they are doing too.
The purchasing behavior of people can be influenced through social media. You will often read reactions of others (reviews) and they can ensure that other people of the same target group also become interested. They might want to buy a product or service because of someone else's positive rating.
Social media possibilities
Companies have a greater reach when they use social media. The strategy of a company can also be better determined. You can look at what speaks to people, change your game based on this and in turn you can see your revenue rise quickly. Ask for the opinions of customers, involve them into your process. Because of this your customer satisfaction will increase and you will gain even more new customers.
Blog, companies can attract customer through the means of writing a blog. If you have followers, they can also share your blog posts and this can involve the interests of potential new customers. It will ensure more brand awareness and also make sure that clients feel connected and bound to your company.
Promoting your company or the company that you are setting up at the moment. Your customers will see what you are up to and will keep an eye out for you.
Posting reviews of customers. This ensures that others know what they can expect of your company. Many people will first look at opinions of other people of a company before they will contact you. Reviews on social media can be a good addition to this.
Involve customers and ask for their opinion, then you will show the world that you appreciate the opinion of your customers.
Promoting new products and services, through which customers will know when and what is coming and they will also keep better track of your social media pages.
News announcements. Through news announcements you will let your customers think about your company again and they will contact you again if they need any of your products or services. Keep laying the pavements of the road, so that you will not be forgotten!
Social media, why?
There are enough reasons as a company to make use of social media. Different researches have been done with different companies, looking at the reasons that they use social media. The reasons are listed here below and they are explaned.
Brand awareness. As mentioned shortly above, you can increase the brand awareness of a company. Competitors will make use of social media and thus you cannot stay behind. You will attract new customers through your website, through search engines, but also through social media. Social media has a great reach and a message placed on any social media can then be shared by other users and in turn be seen by all of their followers. You can for instance also award prizes or free products or services, which will make people more likely to share your post and you will get even more reach with your company. A good slogan can also help so that people will remember your brandname.
Reputation management, the coming of web 2.0 will ensure that companies can more easily monitor what customers think of a brand.
Influence the purchasing behavior of customers. See what the wishes and needs of your customers are. You can then use this information to adjust your strategy to what they really need. It can also inspire you to do things differently next time. Sometimes a particular strategy doesn't work exactly like you would want it to. Ask your target group what they think are your strong points and what they would like to see differently. This information will be of much practical use in your company. Make sure you don't keep stuck with a strategy that doesn't work anymore and use information you can gain from social media to change your company for the better.
Influence the search engine ranking. By regularly posting something on social media, the results in the search engines when customers search for your company will also become better. It is therefore also very important to use the social media, paying some attention to SEO.
Generating website traffic with incoming links through social media. For search engine traffic, the incoming links are of importance and you can take advantage of this. This is a good strategy with which you can achieve something in different ways and have a great reach.
Gaining new customers through social media. Your target group can be reached in a good way. Speak in the language of your target group and try to stimulate them to share your post with their friends. The chances are that their friends are part of the target group and this can help get your name out to an even bigger group of people.
Wishes of people can create new ideas for your company. If you are open to the opinion of customers and engage in a conversation with them, then this will give you useful insight. But it also gives you the space to think about new ideas. Ask your customers what they would like to see and how the see this before themselves. Through this you will get more motivation to undertake something new and it will match the wishes of your customers. The advantage is that the chances of success are much bigger because the idea comes (at least partly) from your target group! Profit from this!
Maintain contact with your customers. The questions can be quickly answered through the chat function that most social media offer and posts can be shared. Many people are on the internet the whole day and when they have a question it is often easier for them to ask it through the chat or email. Through social media you will have this option to keep up your customer relations. You can ask for their opinions if they bought one of your products or used one of your services. When you are also commenting on their reactions and you are open for criticism (you are looking for solutions together with your customers), then this will help gain trust for your visitors and customers, which increase the chances that they will choose (again) for you in the future. The time it takes for you to react also plays a role here, a quick service can be a reason for people to return to you.
Keeping social media up to date
Social media is something a lot of companies start, but the most important thing is to keep your social media up to date. Through this you can bind customers to you and keep them updated about the latest developments. You can hire a social media bureau to do the work for you, but you can also make the choice yourself to keep up a blog once a week. If you have more news to share, even if they are small things, post it on your social media. Every time when a social media post is made, it will engage the interest of your target group. They will see your name again and they will be reminded of your company. The chances become bigger that they will contact you again. Special promotions can also help, through which you can gain a large reach and a large revenue within a short amount of time (how much is dependent of your promotion, the competition, the amount of followers you have and the target group).