High Tea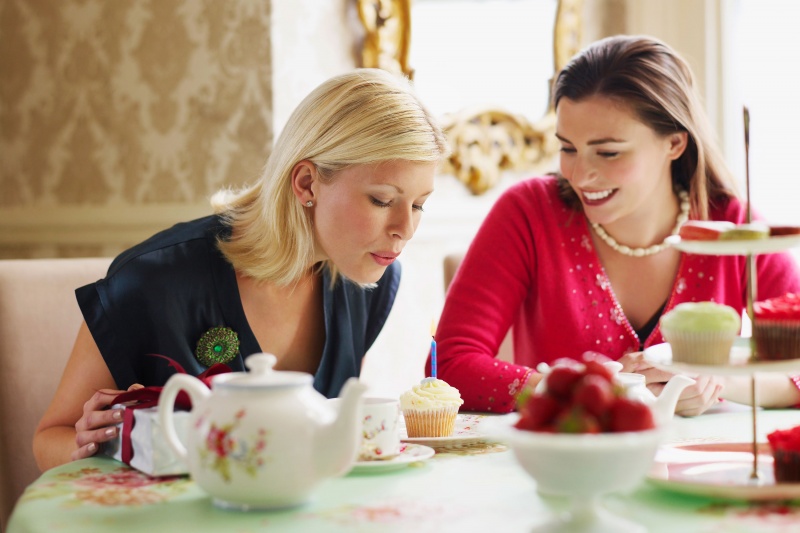 Ask anyone what is the first thing that comes to mind when they think of British culture. The typical word that pops up? Tea. In cultures around the world, there is much symbolism around tea. It more than a hot beverage. People drink it for health reasons, to relax, to commune with friends and family, to perfectly compliment a dish of their favourite food.
High Tea
In Britain, like breakfast, lunch, dinner and supper, tea is considered another meal of the day. High tea is a meal usually eaten in the early evening, sometimes replacing a larger dinner. High tea typically consists of a cooked dishes, bread, cakes and muffins and a hot pot of tea. What started out as a working class meal, to nourish the body after a hard day's work, is now a wonderful way to host elegant tea parties with friends and family. Initially, high tea was distinct from afternoon or low tea, which traditionally occurs a bit earlier (around 4pm) and has lighter dishes and finer tea. However, over time, the line between afternoon and high tea has become blurred, and the terms are often used interchangeably.
Origins of Tea and High Tea
Tea originated in China over 5000 years ago, where it was enjoyed for its flavours and said to possess healing properties. The story goes that Emperor Shen-Nun was in his garden when some tea leaves blew into his pot of hot water. He drank it and found it to be delicious and refreshing. And voila... we now have tea! It wasn't until centuries later that the rest of the world was introduced to the joy of drinking tea. In the 1600s, Dutch traders introduced tea to other countries and it quickly became a viable trading commodity. There are over three thousand varieties of teas, with thousands of different flavours. Fun fact: tea has more flavour profiles and variety than wine.

Drinking tea quickly became popular in Britain among the upper and working classes. However, it was not until the 1800s that tea became incorporated into an entire meal. Before the introduction of High Tea, there was a long period between lunch and dinner. It is said that Anna the Duchess of Bedford, was feeling peckish and ordered a mid-afternoon tea with a slice of cake. She introduced the practice to her friend, Queen Victoria, and soon afternoon tea and cakes became popular among the British royalty and the upper class. Afternoon tea was seen as a chic and leisurely meal, to pass the time until dinner. Teas were served in lounge rooms, where persons sat on low chairs, drinking fine tea and eating delicate cakes from elegant chinaware. While the upper class had their Afternoon Tea, the working class adopted the practice of having High Tea. With the rise of the Industrial Revolution, more and more persons were working in factories far away from home. After a long day, they returned home hungry, and started to have a meal at 6pm, earlier than previous times. Unlike afternoon tea, high tea was eaten on a high dinner table (hence the name), with bigger, less fine mugs, and stronger brews of tea. Cakes and scones were replaced with meaty sandwiches, pies, hearty fruitcakes, cheese, sausages and potatoes, scones, and even a bit of ham. However, over time, the lines between high tea and afternoon tea have become blurred. Many of the unique features of each are now combined and the terms are sometimes used interchangeably.
Hosting your High Tea Party - What you'll need

So you want to host an elegant high tea party. What are some of things that you will need for your party?

- Plates and bowls - decorative and matching sets can be festive, elegant and can create a theme that sets the mood for the afternoon.
- Tea pots and cups, creamers, sugar bowls.
- A variety of teas to choose from. It would be a treat to include unusual teas and unique flavours.
- Cutlery - cake knives, cheese knives, forks, teaspoons.
- Napkins and doilies.
- Cake stands to show off your delicious cakes and sandwiches.
- A menu of delicious morsels.
- A floral centerpiece.



What teas to serve?
For a high tea party, you will want to select a variety of black, green, oolong, herbal and fruit teas for your guests to choose from. Now depending on what dishes feature during your meal, or your preference, you can choose a variety of teas.

- Black teas. Hearty, bold and flavourful. These types of teas are usually recommended for sweeter dishes.
- Green teas pair. Aromatic. Milder with a green appearance. Works well with poultry and seafood.
- Oolong. A cross between black and green tea. Fruity flavoured.
- White tea. Made from young tea leaves that were picked before the flower buds were fully matured. White tea is very delicate with a mild flavour.

Below are some suggestions to make your high tea meal a satisfactory experience.
1) Earl Gray Tea - Named after Charles, 2nd Earl Grey (UK Prime Minister, 1830-1834). This is a blend of black teas fragranced with oil of Bergamot.
2) English Breakfast - a black tea blend of a variety of teas. Bold flavour. Goes well with milk and sugar.
3) Lapsang Souchong - a Chinese tea. Very bold and smoky flavour.
4) Darjeeling - originates from Northern India. Aromatic with a hint of almond and flowers.
5) Jasmine tea - a green tea scented with jasmine flowers
6) Taiwan Oolong - natural fruit flavour, not as strong as a black tea.
7) Dimbula - a variety of Ceylon tea (black tea). Very strong flavour
8) Red tea - a caffeine free option
9) Fruit teas - these have become very popular, offering much diversity and choices. For example, peach, apples, lemon and passion fruit.
10) Teas derived from herbs (lemongrass, gentian, mint) and roots (ginger) are also delicious options for your high tea!

Making the Perfect Cup for High Tea

So you've decided which tea or teas you will feature in your high tea. Now how do you brew the perfect pot of tea? It is much more that adding some tea bags to a pot of boiling water. Read the following steps for a perfectly enjoyable, and delicious, hot brew of tea.
1) Boil a pot or kettle of fresh cold water.
2) Place the tea bag (or 1 gram of loose tea leaves to 100 ml of water).
3) Let the tea steep for a minimum of three minutes for the best flavour and optimal minerals. Careful. Beyond three minutes, and your tea can become bitter.
4) Sweeten to taste.
Provide jugs of milk, cream, lemon wedges, sugar and honey for your High Tea guests to add to their cups of tea. Honey is an excellent choice for black teas and teas with strong and distinct flavours.
High Tea Menu Ideas

You've decided what tea you'll be using. Now what is on the menu to eat? Some suggestions for an enjoyable afternoon meal:
Ham sandwiches
Devilled eggs
Mini quiches
Scones with jam and clotted cream.
Sponge cake
Cheese
Muffins
Cupcakes
Mini cheesecakes
Strawberries
Here are a couple recipes to make your own dishes right at home!
Scones recipe
You cannot enjoy a nice high tea without the scones! They can be easily be bought in the store, but fresh scones are delicious and easy to make. Use the following recipe to impress your friends with your hot and fresh scones.

Prep: 5 minutes
Cooking: 10 minutes
Serves 8

Ingredients: 350g self-raising flour and more for dusting. ¼ tsp salt. 1 tsp baking powder. 85g butter. 3tbsp caster sugar. 175ml milk. 1tsp vanilla extract. Squeeze of lemon juice. 1 beaten egg for glaze.

Preheat oven: 220C/fan 200C/gas

Mix flour, salt and baking powder in a large bowl. Add butter and rub with fingers until the mixture crumbs. Stir in the sugar.
Warm the milk. Add the vanilla and lemon juice. Place a baking sheet in the oven.
With the dry mix, make a well, and add the liquid mixture. Combine with a cutlery knife. Sprinkle flour over your work surface, the dough mixture and your hands. Fold dough 2-3 times until it is smooth.
Cut the dough (with a floured cutter) into eight scones. Brush the top of the scones with the egg glaze. Place onto the hot baking tray.
Bake for 10 minutes until risen and golden on the top.
Serve with jam and clotted cream.
Mini Quiche Recipe

A savoury, delicious addition to your menu!

Prep: 10 minutes
Cooking: 12 minutes
Makes 72 mini quiches

Ingredients: 6 sheets ready-rolled shortcrust pastry. 6 slices of bacon (turkey bacon is a good substitute). 1 onion finely diced. 6 eggs. 1 cup of cream. 1 cup of grated cheese of your choice. More grated cheese for topping. 1 tbsp chopped, fresh parsley. Salt and black pepper.

Preheat the oven to 190°C/375°F/Gas Mark 5.
Cook the onion and bacon over a low heat until the onion is softened. Allow to cool a little. Mix together with the eggs, cream, cheese, parsley and salt and pepper.
Using a cookie cutter or glass, cut 12 circles from each pastry sheet. Use these to line a mini muffin pan.
Place about 2 teaspoons of the egg and bacon mix in each pastry base. Top with grated cheese.
Bake in the oven for about 12 minutes per tray (or until puffed, golden and set).
Repeat with remaining pastry sheets and mix.
So now you have your carefully selected and brewed teas, and a delicious menu featuring your freshly baked scones. The table is elegantly set with beautiful cups, mugs, pots and dishes. It is time to enjoy your high tea with your friends and family! Cheers!