Donald Trump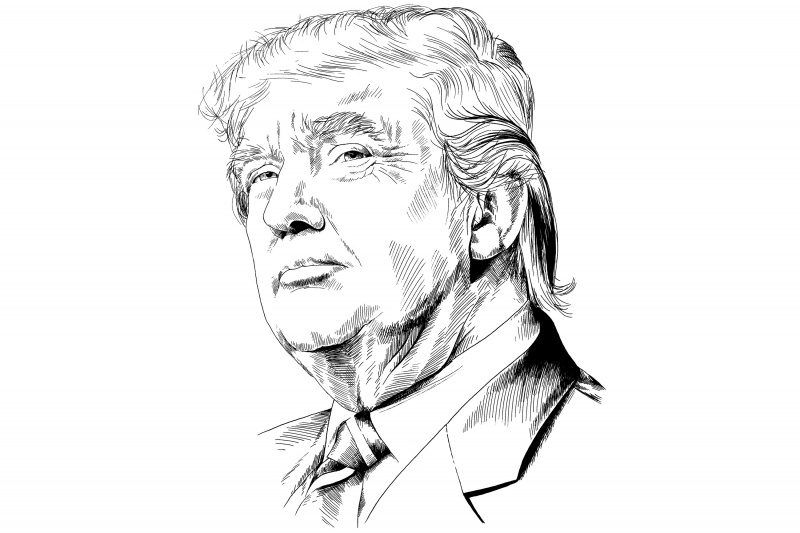 Donald John Trump is a real estate business man, television producer and host and since January 20th 2017 officially the 45th president of the United States of America. After a long career in real estate and taking over the family business, and a career in media, Trumps interest in politics grew and grew. Trump has five children and is now married to Melania Trump, who is a former fashion model.
Biography
Donald John Trump was born in 1964, on the 14th of June. He was born in New York's borough Queens, in the United States of America. Trump is the son of Frederick Christ Trump and Mary Anne Trump. He has four other brothers and sisters. Trump his origin is German and Scottish. His mother was born in Scotland and moved to New York. In New York, she became a maid. Trump's father was born in the Bronx. His parents met and got married in 1936. The couple started to live in Queens after they got married. Trump's grandfather, Frederick Trump, made a huge amount of money since he was an owner of several restaurants in Canada. Trump went to The Kew-Forest School in Jamaica Estates. Later on, he attended the New York Military Academy in New York. He also finished high school in New York. After finishing high school, Trump started college in 1964. He went to Fordham University, which was located in New York City. After two years, Trump changed colleges and attended the Wharton School of the University of Pennsylvania, which is located in Philadelphia. In 1968, he got his degree in economics. During his college years at the University of Pennsylvania, Trump started to work at Elizabeth Trump & Son, which is Trump's family company.
Business career
After working at the family company for years, Trump became the new boss of Elizabeth Trump & Son. The company is a real estate company, and he renamed it after taking it over. He named it The Trump Organization. Trump did a good job in the real estate world and made it possible for The Trump Organization to take over numerous other companies. In January 2017, Trump stated that he would no longer be a part of The Trump Organization, so his presidential interests would not conflict with his business interests. He gave The Trump Organization to his sons Don Jr. and Eric. He is holding on to his financial stake in the company while being president. In 2011, a documentary came out that was called You've Been Trumped. The documentary covers the conflicts between locals and Trump in Scotland in 2006. In 2006, Trump decided to develop a golf resort there. However, locals did not want that, which caused different conflicts. In 2016, Trump said that the golf courses would create approximately 6000 jobs. However, the courses only created 200 jobs. His hotels and casinos has been filed for bankruptcy six times. Trump has never been bankrupt personally, but his businesses did. The businesses were like Trump Taj Mahal, Trump Plaza Hotel and Casino, Plaza Hotel, Trump Castle Hotel and Casino, Trump Hotels and Casino Resorts and Trump Entertainment Resorts. All this happened in the period between 1991 to 2009. Trump made 362 million dollars in 2014 only. Trump is known for his successes and his bankruptcies. However, in all the years he worked in the business world, he was always really sceptical about his tax returns. In 2016, Trump's tax returns have been released in the public. It turned out that Trump claimed a 916 million dollars loss in 1995 in his tax returns. Since he claimed to have this huge loss in 1995, Trump had to pay less taxes in the years after that.
Media career
Besides his business career, Trump has been busy with his media career as well over the years. He played in twelve movies and in fourteen television shows. He also got nominated for two Emmy Awards. For a while, Trump owned his own radio program, which was named Trumped!. The Apprentice is the name of the reality show that Trump was the producer and host of. The show was about a group of people who competed against each other to get a job in management in one of Trump's company. When it was clear that the show was a success, Trump made one million dollars per episode. Because of his appearance in fourteen seasons of The Apprentice, Trump was honoured with his own star on the famous Hollywood Walk of Fame. Another show that Trump hosted was called The Celebrity Apprentice. The show was about several celebrities who fighted against each other to raise money for their self-picked charities. In 2015, Trump decided not to go for a fifteenth season of his show The Apprentice, since he planned to participate in the presidential elections. Because of Trumps statements about immigrants and Muslims, NBC decided to end their business relationship with Donald Trump. Former Governor of California, Arnold Schwarzenegger, is the replacement for Trump in the fifteenth season of The Apprentice. Trump was the host of the WWE fights called WrestleMania IV and WrestleMania V in 1988 and 1989.



Political career
Trump and his political career started in 1987. That year, he wanted to participate in the presidential elections. He even spent a large amount of money on advertisements. Other years that Trump wanted to run for presidency was in 1988, 2004 and in 2012. In 2012, the Wall Street Journal revealed a poll in which men could conclude that Trump was the leading competitor of all the competitors who were potentially running for presidency. Trump is known for his bold statements about the former president Barack Obama. In 2011, Trump began to question in public if Obama even was an American citizen. He also did not agree with Obama serving as a president. Trump also did not believe Obama's birth certificate that was released when Obama won in the elections in 2008. Trump went a little further in 2011, by asking if he could see Obama's student records since he doubted the fact that Obama went to an Ivy League school. During his presidential campaign, Trump stated in 2016 that Obama is born in the United States of America. The first speaking event of Trump was in 2011. The event was the Conservative Political Action Conference. The group that organized it was a conservative LGBT group, and was called GOProud. This speaking event was the starting point of his career with the Republican Party in the United States. Two years later, Trump spoke again at the Conservative Political Action Conference. During Trumps presidential campaign, GOProud started LGBT for Trump, with the goal to help Trump run for president. Trump made his feelings about climate change very clear in 2014. He thinks that climate change is not real and is made up by the scientific community. Trump became an official Republican in 1987. However, Trump went from being a Republican to the Reform Party in 1999. In three years, Trump left the Reform Party and became a Democrat until 2008. Then he went to being a Republican again. In 2011, Trump decided to go as an independent politician. After a short period, Trump went back to being a Republican again.
Personal life
Trump has been married three times. He has five children, and eight grandchildren. In 1977, Trump and his first wife got married. He married Ivana Zelníčková, who is a Czech model. The two got divorced in 1990. Together, they received and raised three children. Their son Donald Jr was born in 1977. Their daughter Ivanka was born in 1981 and their son Eric was born in 1984. The press started to publish articles about Trumps affair with Marla Maples, who is an actress, in the beginning of 1990. In the same year, Ivana Trump and Trump filed for a divorce. The second wife of Trump was Marla Maples, the woman with who he had an affair. In 1993, Maples and Trump received another daughter, Tiffany. The same year, Maples and Trump got married. In 1997, the two filed for a divorce and separated. Two years later, the divorce was officially done. Trumps third wife is Melania Knauss. The two met and started a relationship in 1998. In 2004, the couple got engaged and got married a year later. Melania and Trump received a son in 2006, called Barron. Barron is Trumps fifth child. For his religious beliefs, Trump calls himself a Presbyterian. From a young age, Trump went to the Presbyterian Church in his neighbourhood in Queens, New York. Right now, Trump visits the Reformed Marble Collegiate Church in New York occasionally.
Awards and nominations
Since Trump has been working in several sectors, like the real estate sector and the political sector, for a long time, he has won or has been honoured for several awards. In 1983, Trump received the Jewish National Fund's Tree of Life Award, caused by his actions relating to the Israel-United States relations. In 1986, Trump received the Ellis Island Medal of Honor. In his media career, Trump won the Golden Raspberry Award for Worst Supporting Actor in 1990. In 2007, Trump was honoured on the Hollywood Walk of Fame with his own star. In the same year, he won the Muhammad Ali Entrepreneur Award. In 2010, he was honoured at the NY Ride of Fame. In the same year, Trump was honoured with an ''honory doctorate of business administration'' from Robert Gordon University. In 2013, Trump was honoured at the WWE Hall of Fame. The latest honours that Trump has received are Person of the Year from TIME Magazine in 2016 and Person of the Year by the Financial Times in 2016 as well.